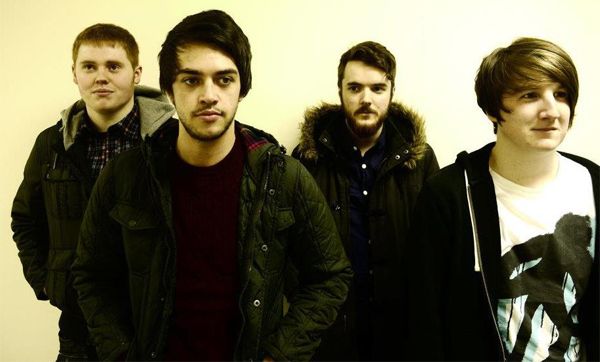 With the release of their highly anticipated, debut EP - Never Have Dreams, right around the corner, VASA have released the tease of a single "Cynthia" via Bandcamp.

A new band, heralding from what some might call the home of instrumental rock (or post-rock if you prefer that term) – dreary, green Scotland, the band have some pretty big steps to follow in.
"Cynthia", trends towards 'swirly guitars' and quick escalation in dynamics over the first half of the song. It moves forward into a heavy crescendo, before descending into Battles-esq interlocking guitars, finally peaking again with all of the elements combining into a grand finale.
It's certainly more than just a tired rehash of the familiar themes of old..

We originally heard of this band a little while back on an episode of Glasgow Podcart, and were instantly drawn to them. It was shortly after that, Tiffany decided to present the band with a little Q&A in order to get the skinny on the band and their upcoming album – this is the outcome.
Tiffany: Before we get started here, lets make some introductions...
Vasa:
Hi, I'm John (bass). The rest of us are Blaine (guitar), Scott (guitar/beard) and Alex (drums). We make loads of noise and our patter is dreadful.
Tiffany: How did you guys get together to form the band?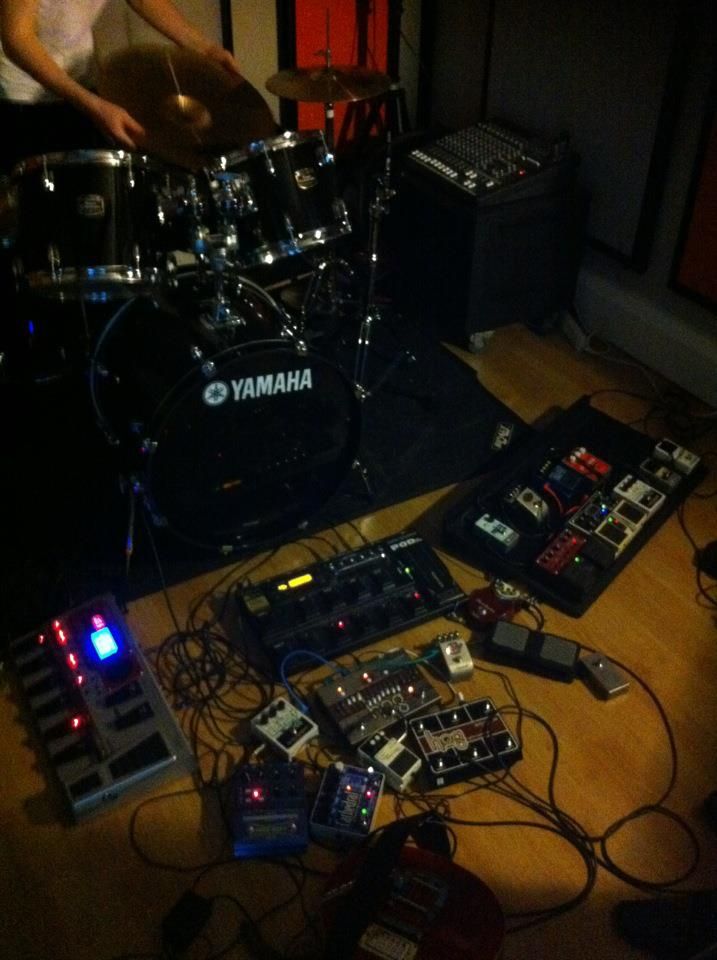 Vasa:
It was halfway through the second year of me and Blaine's Commercial Music course when I noticed Blaine, who I had actually barely said two words to since he joined in second year, put up an instrumental track on his Facebook page that he had self-recorded and I loved it. I'd been desperate to start an instrumental band so I asked Blaine if he was up for starting one and he thankfully was. After doing some writing with Blaine for about a month he brought Scott into the band, who he had been friends with for years, to be the second guitarist and after about a four month long nightmare of a search for a drummer we found Alex by total chance. We had been using Blaine's iPhone as a drummer in the studio before we found Alex so it was great to actually have a real person behind the drumkit.
Tiffany: Was there always a conscious effort put into Vasa being a completely instrumental band?
Vasa:
Yes. Mostly because if any of us actually bothered to sing most people would probably begin to bleed from the ears. As I said, I had been desperate to be in an instrumental band when I first spoke to Blaine about this. We're all really into instrumental music so it's a good fit for us all plus there's no annoying vocalists to work around. We can all just make loads of noise which is always great.
Tiffany: The new EP – where & by who, was it recorded? Can you tell us a bit about the recording process?
Vasa:
The EP was recorded in Beetroot Studios in Airdrie by Stuart MacLeod. Stuart had recorded Trapped In Kansas, who are another band on Overlook Records, and came pretty highly recommended by the TiK guys. As soon as we were told that Stuart had "atmospherics down" then we were sold on recording with him. The recording process was great fun apart from the horror that is "Drum World". Working with Stuart was brilliant for a number of reasons. He is a man with about a million stories, all of which are either hilarious, disgusting or more often than not both. He has also got a ridiculous amount of pedals and processors which Blaine and Scott were loving. Blaine actually spent a whole day just playing around with different reverbs through Stuart's Eventide Reverb unit because he is a pedal whore. We couldn't have had more fun recording with him and are really happy with how it all turned out.
Tiffany: This is the bands first official EP, after releasing two home recorded demos. Did the band dynamic change at all during the switch from home recording to an actual studio setting?
Vasa:
Not really. We knew what we were looking to get from each song we were recording in the studio and what effects etc that we wanted added on to each guitar/bass/drum. The main thing is we had been sitting with these songs for months and knew exactly how we wanted them to sound. The thing about the home recordings was that they were started when it was just me and Blaine. The real dynamic change in the band came when we became a full band and started writing together as a group whereas when it was just the two of us it had just been me showing up to Blaine's flat to put my bass lines down to the tracks he had been writing.
Tiffany: The EP artwork - it's a pretty epic image. Who was the artist? Was there any particular concept behind it?
Vasa:
You're not the first person to tell us how cool the artwork is. The artist is a man by the name of Bryan Willis Thompson who is from Philadelphia. Scott accidentally stumbled across his work after seeing Bryan's Pianos Become The Teeth tattoo on Fuck Yeah, Tattoos on Tumblr and then further investigating Bryan's work on his own website. Bryan has some seriously amazing "digital reconstruction" art on there. As for the concept - "The concept is to just take my passion for architecture and manipulate the basic photographs into a new interpretation of the building that I designed. A new and surreal visual is the objective". That's straight from the horses mouth. It took us quite a while to decide on which piece of artwork we actually wanted because there were so many brilliant ones. Loads of people have been commenting on it so we can only thank Bryan for letting us use some of his artwork. You can check out Bryan's work on his website http://www.bryanwillisdesign.com/ . I would suggest you give it a look. There is some seriously cool stuff on there.
Tiffany: Being that Noisography is a site, mainly centered around live performances, how would you describe what it's like to experience a Vasa show?
Vasa:
Loud. Quiet. Loud again. Quiet again. Tends to finish quite loud. Right at the end we all batter the life out of our instruments, pedals and assorted drum things. Scott tends to abandon the stage and go walkabout during the last section of the last song. It's a very loud experience for everyone involved but we always seem to get a great reaction from the crowds we play to, except to the Dunfermline crowd we played to on tour. The less said about that the better.
"I Don't Know Where, I Don't Know When But Something Awful's Going To Happen"
- Live @ 'Pivo Pivo' Glasgow
Tiffany: Any upcoming shows you want to tell us about?
Vasa:
We have a few gigs coming up in December. We're playing Book Yer Ane Fest in Dundee on the 2nd. Our EP launch is getting planned for the 12th but there are still a few things to iron out before that is officially announced and we are playing The Twa Tams in Perth, which is Scott and Blaine's hometown, on Christmas Eve. We played Perth on our recent Scotland Tour and it was amazing so we are hoping this upcoming one will be even better than the last.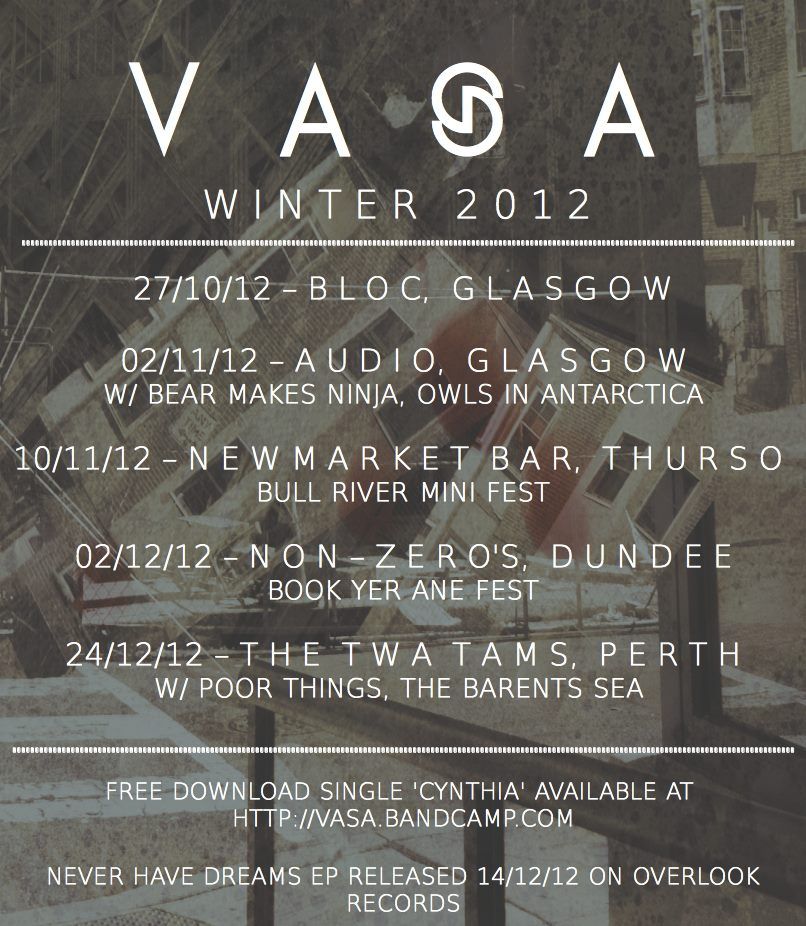 Tiffany: Any potential for a tour outside of Scotland or the UK?
Vasa:
There actually is. I have been talking to one of the boys in Kasper Rosa who runs a booking agency in Belfast about getting us over to do a tour of Ireland and my friend Dan who is part of Mountains of Records, which is based in Lincoln, wants us down to do a small tour of England. These two tours look to be getting booked for next summer. As for getting out of the UK entirely that seems a bit too far-fetched for us right now. Hopefully some day but not just now.
Tiffany: When will the EP be released and where will people be able to find it?
Vasa:
The EP is coming out on December 14th on Overlook Records (http://www.overlookrecords.com/) and will be available online through our BandCamp and maybe iTunes if we fancy it. Overlook will also send out physical CD's to anyone who orders them AND you will be able to find them in a few good music stores in Glasgow. And some shite ones as well.
Tiffany: Is there anything else you'd like to tell our readers?
Vasa:
Despite this well written interview I am actually a truly foul-mouthed individual. As are the rest of us.
Tiffany: To end things off - who are your favorite Scottish bands, that you'd recommend to those reading this right now?
Vasa:
There's so many. Here goes. The Darien Venture, Crusades, Trapped in Kansas, Bellow Below, So Many Animal Calls, Young Philadelphia, DIRTDRINKER, Campfires in Winter, Poor Things, Vasquez, Atlas : Empire, Bear Arms, Sectioned, WE, Wecamefromwolves, Bonehouse, The Barents Sea, Finn LeMarinel (solo act but he's amazing), Hunt/Gather,
TIDINGS

.
Tiffany: Well guys, thanks so much for your time. I look forward to hearing the full Never have Dreams EP and hope to hear even more great things from Vasa in the future.
Cheers!