An integrated music store, rehearsal hall, and professional recording studio, located in the small rural town of Conquerall Mills, Nova Scotia - Conquer All Music, is a one stop hub for the musically inclined.
Owner, Stefan Ramey, has been spending the last year and a half, renovating a former 1950's Anglican Church community hall, into an up and coming business venture which will surely, take the South Shore music scene to a whole new level.

Tiffany recently spoke with Stefan about the process of making Conquer All Music a reality, and what it will bring to the musical table...
Noisography: What were the inspirations behind creating Conquer All Music?
Conquer All Music (CAM):
I wanted to start Conquer All Music because I know there is a wealth of musical talent in the LBC (Lunenburg County) and no real place that brings all that talent together. I also feel that gear-heads like me don't have many options when it comes to purchasing pro audio equipment in Nova Scotia. So, I wanted to create an integrated facility to attract local musicians, bands, teachers, and recording engineers. I want Conquer All Music to be a hub for the musically inclined, a place where people can come to share their love of music with the rest of the world and get what they need to achieve that.
Noisography: Any reason behind placing the business in Conquerall Mills?
CAM:
Well, I spent several years in Halifax for my post-secondary education, and then buzzed of to Pyeongtaek South Korea for 2 years to teach English. After being in a foreign country with a population of 50 some million, I wanted to come back to the quiet area I grew up in and love, to do what I love. I think we live in paradise here on the South Shore. Conquer All Music is only 15 minutes from the beaches and it is in a community surrounded by forest. Originally, I was looking at buying the old carpet factory on highway 103. When that didn't work out, I was looking into purchasing the old E'cole de la Rive Sud in Blockhouse and running a co-op with my recording studio occupying one end of the old school. But that proved to be more trouble than it was worth with all the repairs and TLC it needed. It was actually my dad who mentioned that he saw the old church hall up for sale. The minute I went down to look at it, I knew that this had to be the home for CAM. As an added bonus, many people in the community have stopped in to see the place and tell me stories of all the 'do's' that used to go on down there. I find it very rewarding to restore the building to it's former glory for the whole community to enjoy.
Noisography: Can you tell us a bit about the process of converting an old church hall into a store/studio space?
CAM:
I can tell you this, there was lots of smashy smashy involved. Basically the building had sat abandoned for at least 5 years. The trees had grown right up against the building. When I took possession of the property in January 2012, I went down everyday and started pulling off trim, cleaning out the kitchen (I still have hundreds of dishes) and ripping out the drywall to see what condition the walls were in. Turns out that it was pretty rotten. So, for the next four months I removed all the rotten bits. In the spring I pulled off all the siding and started replacing walls with news studs and sheathing. I had to pour new sills using concrete as the old ones were dessicated beyond repair. After consulting with some friends who knew carpentry, I had a floor plan. I can now walk in the front of that building and stand inside that floor plan, which is a very rewarding experience. I hope to have the facility completed by February. And I must take the chance to extol my compliments on all the great local trades people who have helped me bring life to this project.
The place was built with love and to bring the community together back in the day. Now I am infusing it with more love to keep it standing for years to come. It is like a new building now. it's properly insulated, I've doubled up the walls for sound proofing, poured a new cement floor in the back, and installed steal beams to take the nasty sag out of the roof. When all is said and done, the roof and floor with be the only original parts of the building left standing.
Noisography: What would you say has been the largest obstacle in getting CAM off the ground?
CAM:
The largest obstacle has definitely been funding approval. No one wants to invest in a music business because it seems too nebulous a concept for lenders to wrap their heads around, despite the fact it is like any other business. You need customers, you need equipment, you need to make money. I knew a studio by itself wouldn't generate all the income required to sustain it. So I thought to myself, why not include a music store and let the record floor of the studio double as rehearsal space for local bands and teachers? This model of multiple revenue streams I feel strengthens my business because I have not put all my eggs in one basket. Plus, I think of it as a 'one-stop-shop' for anyone involved in music. I was however, able to wrangle some funding from the Canadian Youth Business Foundation (CYBF) to kick start the renovation process.
Noisography: What are all the services that Conquer All Music provides?
CAM:
Good question. I am still inventing services that I can offer. However, I will be focusing on professional music recording, retailing pro audio equipment and music accessories, and providing an acoustically isolated/tuned rehearsal space. I also provide live-sound reinforcement which I plan to couple with recording, so when I run a PA for a live gig, I can record the bands and offer them a collection of live recordings to use however they see fit. I have also been thinking about doing CD duplication for bands looking to mass-produce their work. In the future I would love to offer recording seminars to educate home-recordists so they are able to elevate the quality of their recordings. I have a instrument repair specialist in to look after guitar repair, but it would be nice to find someone who can repair amps and electronic music equipment. On top of that I will be selling band merch for local artists. You'll be able to walk into my store and grab a t-shirt or a copy of their latest CD, maybe even get tickets to local shows. I have a computer server as well, so clients can retrieve their masters or recording files via the internet (saving them a bunch of running around and gas). Additionally, I also mobile recording services. If you can't get to me, I will come to you in the Green Machine.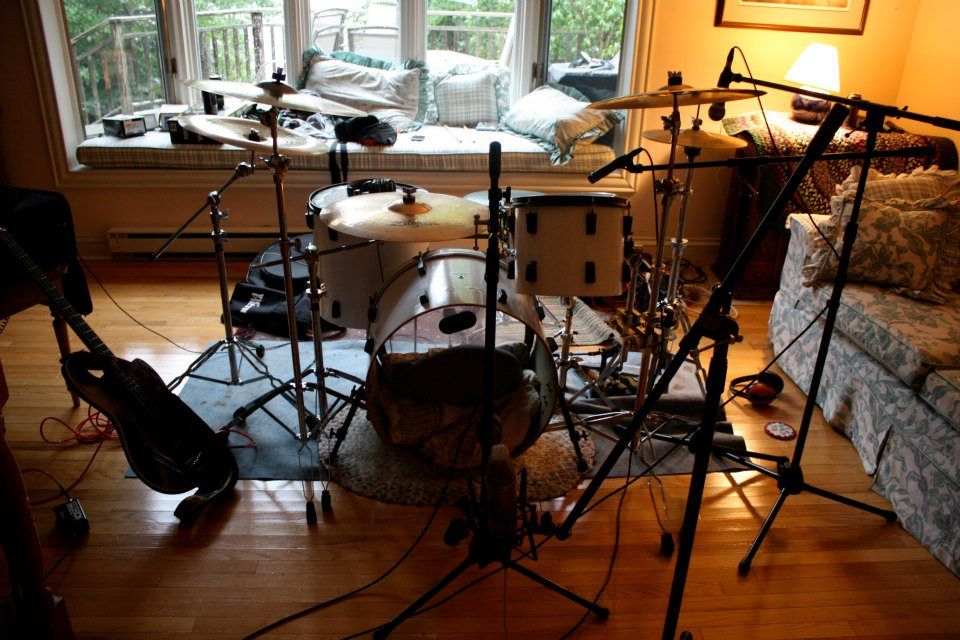 Noisography: What kinds of products can we expect to find on the shelves?
CAM:
I have been trolling the internet and picking peoples brains to come up with inventory that covers all musical bases. And I am happy to announce that I have some great products both local and from afar. The store's focus will be pro audio equipment like cables, mics, preamps, lights, midi controllers, and recording software. However I will also stock basic music accessories like sticks, strings, picks, drum heads, reeds, stands, slides, and all that good stuff. And, I have great brands such as Maritime Analog Pedals, Advanced Audio Microphones, Gilbert Custom Guitar Cabs, Wampler Pedals, JHS Pedals, Digiflex, Lava Cable, Diamond Pedals, Rode, Audio Technica, Genelec, Promark, Los Cabos, Rico, Novation, Propellerhead, Focusrite, and so much more. I have access to almost 300 hundred brands of music-related goodness.

Noisography: What are some of the bands which CAM has worked with to date?
CAM:
I have had the opportunity to work with some great NS talent and businesses. I do recording work for Eastlink, recording audio for ads they run on the info channel.


I've worked with
Titus, a Lunenburg County band, recording their EP 'Successor'. If you like loud, angry music, boy howdy are you in for a treat. I'm actually working on their mixes as we speak.


I've worked with
Jason Szeto (LCC) recording his debut solo album, 'Untitled'. He recorded a collection of acoustic instrumental tunes that sound amazing. Tracked it at his house. You can hear the wind rustling in the trees and birds chirping outside if you listen real careful-like.
I've worked with
Yellow Rose on their Christmas album last year which was a fun project. It's nice to do some folky stuff and they are always playing somewhere. They are almost an institution unto themselves locally.
M

ost recently, I have been recording demos for local singer song/writer

Wendy Fraser and that could lead into a full length album in the New Year.

I've also done some recording for Ben Jensen. He has not released anything to date, but he is one of the coolest song writers and an absolute pleasure to work with. Maybe if he sees this in print it will motivate him to publish some of his material. Fingers crossed.


One of my favorite bands (an I am biased in saying this) is
First to Fall. I did the tracking for their EP 'Home' at the NSCC 2 years ago. Their music is different but catchy as catchy can be. Their music makes you want to move and the lyrics are some of the best I've heard from a local act, no question. I'd love to see those guys hit it big and I think they will because they are so tight live.
Noisography: Where do you hope to see the CAM business in the next couple of years?
CAM:
I hope the business grows and grows and grows some more. I would like to gradually extend my 'sphere of influence' abroad and attract bands from out of county and eventually out of province. As I mentioned earlier, we live in an awesome spot here on the South Shore and I would like showcase all the natural beauty of our area with clients coming from out of province. Sort of a musical-tourism experience. That being said, I would like people locally to think of coming to my store before going anywhere else. If I don't have something you want, I will do what I can to make sure you can get it or at the very least, point you in the right direction to get it.
Noisography: Where can we find more info on Conquer All Music online?

More information can be found at
www.conquerallmusicstore.ca.
I'm on Facecrack at Conquerallmusicstore, on Twitter @Conquerallmusic, and I have a Soundcloud account to showcase some of my personal recordings, but more so to promote my clients work.

Thanks so much for sitting down with us Stefan. We hope to hear much more from you and Conquer All Music very soon!