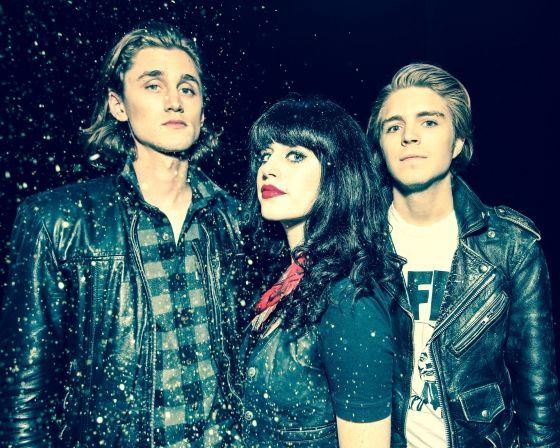 This past year has brought The Balconies incredible success. After releasing their Kill Count EP, they played numerous festivals in both Canada and the USA, and then trekked across Central and Western Canada this fall, supporting the likes of The Aggrolites, U.S.S., Sam Roberts Band, and most recently Big Sugar. The band is pleased to announce some additional Eastern Canada dates have been added to the nearly three month long tour. The tour has brought them coast-to-coast including memorable stops at LA's Culture Collides Festival and M for Montreal Festival last week.
October marked the launch of the band's new single "Do It In The Dark". The track is a new take on an old favourite, and was produced by Arnold Lanni (Our Lady Peace, Finger Eleven) at Coalition Music this fall. The video for the track premiered exclusively on MuchMusic.com as well as on TFO for French-speaking Canada. You can watch the video for "Do It In The Dark" here: http://youtu.be/1H1sksKwey8
The new single and impressive tour schedule has been well-received with the media nationwide. NewCanadianMusic.ca described the new track as, "Part Blondie, part New Pornographers, the power trio combines a rock-steady rhythm adorned with stinging guitar riffs and glam girl Jacquie Neville' KO vocal performance" and Filter Magazine remarked "[The Balconies] led one hell of a red-hot set." The band stopped in to Breakfast Television Edmonton for a special Halloween in-studio performance. Watch their full performance here and here.
The Balconies will be making stops in Fredericton, Halifax, and Moncton at the end of November in support of the new single. The Balconies have also announced a show in Toronto on December 8 at the Sound Academy as part of The Edge 102.1's Jingle Bell Concert Series with U.S.S., and will be closing out the year in Niagara Falls, NY on New Year's Eve.
TOUR DATES
Nov. 21 @ The Ranch, BARRIE, ON (w/ Big Sugar)
Nov. 22 @ London Music Hall, LONDON, ON (w/ Big Sugar)
Nov. 23 @ The Loop, WINDSOR, ON (w/ Big Sugar)
Nov. 29 @ Fredericton Farmer's Market, FREDERICTON, NB (w/ Big Sugar)
Nov. 30 @ Olympic Hall, HALIFAX, NS (w/ Big Sugar)
Dec. 1 @ iRock, MONCTON, NB (w/ Big Sugar)
Dec. 8 @ Sound Academy, TORONTO (w/ USS)
Dec. 31 @ The Rapids Theatre, NIAGARA FALLS, NY (w/ USS)
LINKS