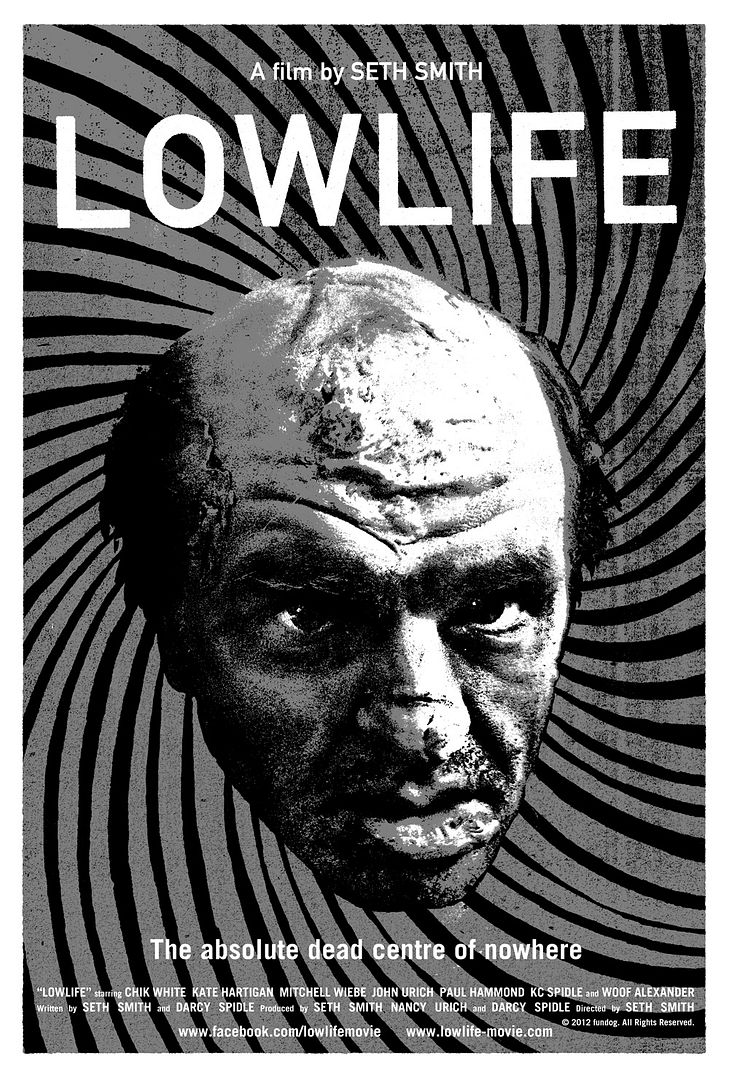 The do-it-yourselfers behind Seth Smith's epic living drug flick Lowlife have put together a unique guerrilla theatrical release that will see their film play in twenty cities and towns, reaching every province in Canada in one weekend. The film will screen in galleries, bars, basements, backrooms, indie theatres, community halls, churches and other alternative spaces. Some of the regional presenters include Weird Canada, Sappyfest, Sled Island, Ghost Town, The Khyber Centre for the Arts, The Screening Room, KIAC, and Crace Mountain.
X-CANADA SCREENING CITIES: Halifax, NS; Sydney, NS; Liverpool, NS; Fredericton, NB; Charlottetown, PE; St. John's, NL; Montreal, QC; Ottawa, ON; Toronto, ON; Kingston, ON; Sarnia, ON; Hamilton, ON; Winnipeg, MB; Saskatoon, SK; Calgary, AB; Edmonton, AB; Vancouver, BC; Nanaimo, BC; Dawson City, YK; and Yellowknife, NWT. More cities, venues, dates, and times to be announced.
Lowlife premiered to a sold out audience at Fantasia International in July and recently won the audience award for BEST FEATURE at the Atlantic Film Festival.
Lowlife Synopsis
A mysterious wanderer going by the name of Asa appears to our heroine, Elle. She quickly trades in her humdrum life as a failing tubist to be swayed by this man's strange charms. But love soon turns to hunger as she falls in with Asa's psychotropic slugs—living drugs so wild they distort and even alter reality. Elle and Asa binge on the slugs for a number of days, their experiences becoming increasingly intimate and bizarre. Through an escalating series of slime-drenched mishaps, the couple eventually find themselves marooned on a mysterious island where an omniscient canine watches over an epic battle of body and soul.
Background
The concept for Lowlife arose in early 2010 when Seth Smith and Darcy Spidle dreamt up a short film called Mantrap. It had a simple plot. A drug addict accidentally kills his girlfriend and then goes to the forest to hide and purify his damaged soul. In the process, he loses his mind, eventually ending up impaled in a man-sized trap of his own devising. After months of development, the film morphed into the feature Lowlife. Many elements remained the same, however. Darcy, Seth, and the latter's partner Nancy Urich had all moved to the country in recent years, so much of the action would take place in the forest and around the sea. The natural world seemed like an ideal place to play out Seth's surrealist visions of mud creatures, human deformation, slug drugs, and a godly dog. And yes, drugs would be a central theme. Instead of the typical junkie tale, however, Lowlife would explore strange new relationships between 'living' drugs and their users. Lowlife emerges as a darkly thoughtful, highly inventive creation, strikingly contemporary in its use of new 3D techniques and a non-linear timeline, but the film also remains aware of its indebtedness to key classics. The obscure poetry and surrealism of films like Cronenberg's Naked Lunch and many of Lynch's works were deeply influential. Black and white techniques from film noir are also utilized, and to create the alluring sense of mystery that provides Lowlife with its main hook, inspiration was drawn from Hitchcock and early Polanski films, especially for ideas concerning tension, plot development, and the use of lighting and camera angles.
Of course, no one involved had any money or movie gear to get things started, so they had to beg and borrow. Mike Clattenburg would make the most significant contribution, lending the production the HDV Camera he used to film Trailer Park Boys. This ended up being just enough to get filming underway. But with a crew of only a few people, the work was punishing. The crew hung from trees, buried cameras in animal dens, stole canoes, trespassed, ingested bizarre concoctions, scaled cliffs carrying bodies, and waded through icy bogs. Production would happen in 3 to 4 day intensive sessions where the crew would work 16-18 hours a day. Someone always went home bruised and ill. After one notorious session, Kate Hartigan (Elle) even suffered a broken nose and the onset of hypothermia. The production took on a vibrant life of its own, with the story developing as opportunities and ideas presented themselves. Elle and Asa would spend days in character, often covered in slime and soaked from the spring forest, allowing real emotion and discomfort to guide their performances on camera. All the while, Seth was spiralling deep into the fantasy world he had created, spending sleepless nights crafting creatures and painfully contorted costumes out of latex, foam, plaster, and wire.
Although this guerrilla method of filming kept costs low and imbued Lowlife with a unique aesthetic, the production was physically, emotionally, and financially taxing. Every week the crew would scrape together their cash to pay for film equipment, props, tape, rentals, gas, and food. And of course, many unpaid months were spent in post-production editing and scoring the film. For the crew, Lowlife became life. The production turned into an obsession that often meant the sacrifice of family, friends, and other projects. However, this kind of dedication to a vision often leads to the most sincere and gripping works of art—the result of a rare, real world sensitivity often lost to the trappings of more commercial productions.
To find out more about Lowlife, visit: