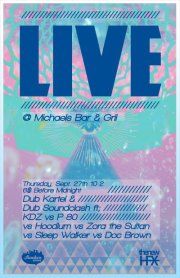 As part of a fresh monthly series of multi-faceted-musical-integration, Dub Kartel rocked the stage at the first LIVE Halifax at Michael's Bar and Grill on
September 27th 2102.
Sarina had a chat with the seven-piece group, where they talked about upcoming recording plans and more!
"We're an extremely live band, and a lot of our focus goes into our live show..."
See
Dub Kartel next on October 5th at Gus' Pub!
Check them out!
https://www.facebook.com/DubKartel
Filmed and Edited by Ian Kean
Interview by Sarina Wilson
- - -
In partnership with In Unison Productions
http://www.inunisonpro.com