We are so stoked to be working with Halifax Pop Explosion this year, to bring you the absolute BEST HPX coverage!!
Every year, the Noisography team works together to bring you the fastest and most complete HPX coverage as possible. This year is a little different, as we are directly working with the HPX crew to make sure you all are even more up to date with what happening, before and during the festival!
I'm telling you, the HPX and Noisography combo is gonna kick some major ass!
If you can't make it to this years festival, don't fret! We have you covered!
During the festival, HPX and Noisography will both be bringing you photos and videos of the previous evening's performances - EVERYDAY! So, if you're stuck at home or you just happened to be at a different show - you won't miss a thing!
It's going to be amazing!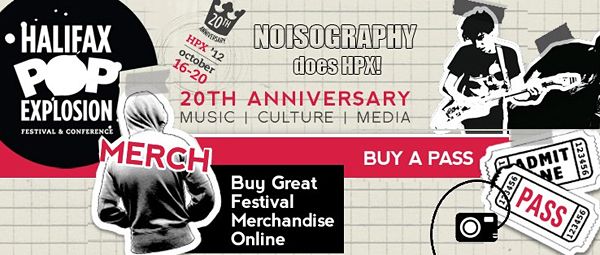 Until then, keep a close watch on the Halifax Pop Explosion's FB and Twitter pages for all kinds of amazing updates!

Photos, videos, special guest announcements, artist spotlights, capacity updates, line-up status' and so much more!!

http://halifaxpopexplosion.com/
https://www.facebook.com/halifaxpopexplosion
https://twitter.com/halifaxpopx
Official HPX Twitter Hashtag - #HPX2012
Make sure you also follow both Dan and myself on Twitter too!
Sadly, it seems as though my phone as stopped sending photos to twitter (which basically makes me want to cry), so not nearly as many 'on the fly' photos will be posted as I had hoped, but we'll deal with that as best we can.
https://twitter.com/tiffanynaugler
https://twitter.com/megadan
https://twitter.com/noisography
To get you in the mood, check out the Youtube Playlist below, featuring all of Noisography's 2011 HPX videos!
See you out there folks!
Can't wait to experience 20yrs of HPX with all of you!
- T
______________

Tiffany Naugler noisography@gmail.com
Owner/Editor https://twitter.com/#!/tiffanynaugler
Photographer/Videographer https://www.facebook.com/Noisography