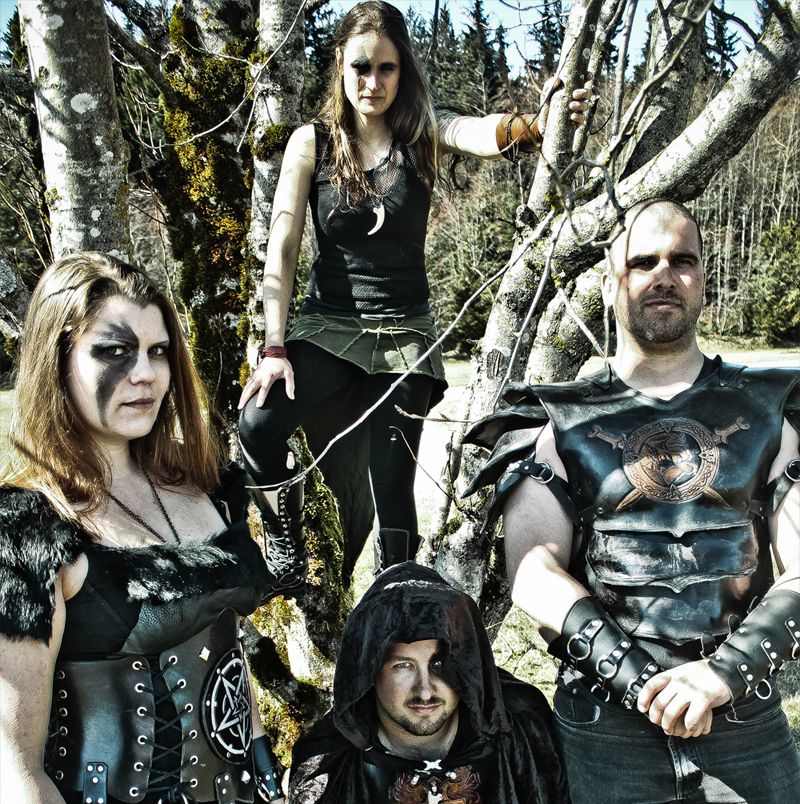 Canada's favorite purveyors of folk/prog metal,
Scythia
are now streaming their upcoming EP
'For The Bear'
on
MetalRecusants.com
at the following location
here.
The
EP will be officially available on
Tuesday, September 25, 2012
and can be pre-ordered on bandcamp
here
.
A short, but sweet seven-track adventure that departs from the orchestration and central concept of its predecessors, 2011's
'...Of Exile'
and 2010's
'...Of War',
the EP represents a leaner, faster and sharper folk metal machine.
The folk warriors will also be trekking across Canada for their '
For The Bear Tour'
that will kick off at their EP launch show in
Vancouver, BC on Sept 26th at the Rickshaw Theater
and will see the band venture east with a performance at
Noctis Metal Fest on Sept 29th
alongside such names as
Venom
and
Agalloch
and heading as far as Montreal, QC and back west over the month long tour.
For The Bear Tour Dates
Sept 26, 2012
- Rickshaw Theater - Vancouver, BC w/ Terrifier, Nylithia - Doors at 8pm, show at 9pm - $10 -
http://www.facebook.com/events/450549494984645/
Sept 28, 2012
- Rockwater Grill and Bar - Golden, BC (Scythia exclusive) - Show at 11pm
Sept 29, 2012
- Mac Hall Ballroom - NOCTIS METAL FEST - Calgary, AB - Scythia opens at 5pm w/ Venom, Agalloch, Grand Magus, Nun Slaughter, Black Witchery, Excrementory Grindfuckers, The Order of Chaos -
http://www.facebook.com/events/366080160119589/
October 1, 2012
- Ozzy's/The Zoo - Winnipeg, MB w/ Vathek, Spill the Blood, Half Dead Husky, Einarr - Doors at 9pm $ 8
http://www.facebook.com/events/159012417556368/
October 5, 2012
- Rotilicious - Ajax, ON w/ Gunt - Doors at 9pm by donation -
http://www.facebook.com/events/355061057909805/
October 6, 2012
- TBA - North Bay, ON
October 7, 2012
- Foufounes Electriques - Montreal, QC w/ Valknacht, Warcall, Talamyus. Doors at 7pm, $10 in advance/$12 at door -
http://www.facebook.com/events/374908789248527/
October 11, 2012
- Coach and Horses - Windsor, ON
October 12, 2012
- Corktown Pub - Hamilton, ON - Scythia Headlines - Doors at 9pm, Scythia at 12:45am
October 15, 2012
- Crocks - Thunder Bay, ON w/ Point North - Doors at 8pm
October 18, 2012
- Lepps - Saskatoon, SK (Lepps) w/ Druidus, Desecrate Scripture - Doors at 9pm, $10
https://www.facebook.com/events/369743303092333/
October 19, 2012
- Rendez Vous - Edmonton, AB - w/ Mortillery, Mongol - Doors at 8pm, $10
October 20, 2012
- Branding Iron - Armstrong, BC w/ Skatin for Satan, White Knights Finish Last - Doors at 8 pm, $5
http://www.facebook.com/events/278701505575765/
https://www.facebook.com/scythiametal
https://twitter.com/scythiametal
http://www.youtube.com/scythiaband
http://scythia.bandcamp.com/
- - -
Press release provided by Asher Media Relations