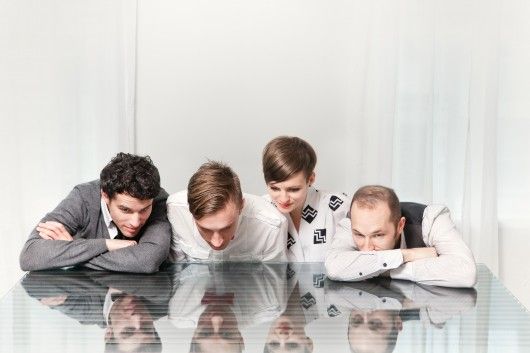 Vancouver's Rococode recently announced a co-headline national tour this fall that will see the band cross the country in September with Fredericton's The Belle Comedians and Saskatchewan's Rah Rah. Today, Rococode reveal Western Canada dates for October that include a stop at Breakout West in Regina and a sweep of dates through Alberta and British Columbia with The Canon Bros. All dates are noted below.
Rococode have consistently proven, they make beautiful videos to accompany their polished alt/indie pop. Having premiered previous videos with Spinner ("Empire)" and Interview Magazine ("Ghost I/II)" in the U.S., Rococode are making their latest video for Guns, Sex and Glory album track "Weapon" widely available to share
...
Directed by Dave Wallace, the premise is that the world has fallen into a state of complete disarray. The dark and menacing feel of daily life creeps into every frame, and culminates in an intense cliffhanger ending. As noted by The Grid earlier this year, "Their well-crafted pop is full of wit, charm and personality." And Rococode's live show is beyond compare. Exclaim declared the band's live set "tightly orchestrated, pure pop rock." Keep tabs on the band via www.rococode.com and see them as they cross Canada this fall.
ROCOCODE / FALL TOUR DATES / 2012
September 5 Moncton, NB Tide & Boar^
September 6 Charlottetown, PEI Hunter's Ale House^
September 7 Halifax, NS The Seahorse Tavern^
September 8 Fredericton, NB Capital Complex
September 12 Peterborough Red Dog Tavern*
September 13 Guelph, ON eBar*
September 14 London, ON Call The Office*
September 15 Hamilton, ON Supercrawl*
September 15 Kitchener, ON KOI Fest
September 17 St. Catharines, ON Mansion House*
September 18 Toronto, ON Horseshoe Tavern*
September 20 Ottawa, ON Mavericks*
September 21 Montreal, PQ Petit Campus
September 22 Kingston, ON Grad Club*
September 24 Toronto, ON Yonge & Dundas Square – Lunchtime Live! Series
September 28-30 Regina, SK BreakOut West
October 2 Saskatoon, SK Amigo's Café+
October 3 Edmonton, AB Wunderbar+
October 4 Calgary, AB SAIT the Gateway+
October 5 Canmore, AB Communitea Café+
October 6 Kelowna, BC Streaming Cafe
+ w/Canon Bros
- - -
Press Release provided by
Freshly Pressed PR