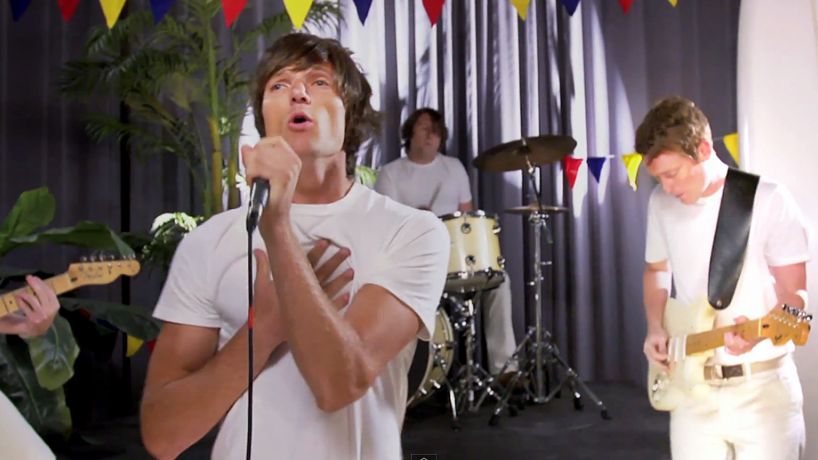 Rich Aucoin shares his new video for "Brian Wilson is ALIVE" taken from his debut We're All Dying To Live as the "I Want To Believe Tour" continues

The dizzying video follows Aucoin as he runs around performing recreations of classic Beach Boys album covers and reenactments of Brian Wilson biography folklore.
Aucoin says of the concept behind the video:
"The idea for this video was to do a re-telling of Brian Wilson's extraordinary life so far and homage as many milestones as we could in the 4mins of the song's duration as we could. We started the story out in Brian's bedroom in Hawthorne practicing vocals along to the radio to the recordings of The Four Freshmen (see posters in the background!) with his brothers. Then we quickly see the Candix recording studio before its collapse, making way for the Capitol Records signing. After being photographed with a surfboard and lead onto Ed Sullivan, we see them recording, posing for the Pet Sounds cover and being bombarded with fame until collapsing under it and the making of SMiLE's pressure. After escaping from bed, we see Brian's progression back to health and to finishing his opus. This was all made out of love and respect for a man and his music who have given so much to everyone. THANKS BRIAN!"
The Beach Boys and Brian Wilson recently posted a link to the video on their official Facebook profiles.
Aucoin's debut was long listed for this year's Polaris Prize and has been nominated for eight Music Nova Scotia awards. The album is a swirling symphony of uplifting indie rock, harnessing the talents of over five hundred musicians.
Rich Aucoin I Want To Believe Tour Dates
09/21 - Ottawa, ON @ Ritual Night Club*
09/22 - Montreal, QC @ Pop Montreal
09/24 - Cambridge, MA @ Middle East Upstairs*
09/25 - Brooklyn, NY @ Glasslands Gallery*
09/26 - Washington, DC @ DC9 *
09/27 - Cincinnati, OH @ MidPoint Music Festival
10/02 - Austin, TX @ Red 7*
10/04 - Tucson, AZ @ Solar Culture*
10/05 - San Diego, CA @ Soda Bar*
10/06 - Los Angeles, CA @ The Satellite*
10/07 - San Francisco, CA @ The Rickshaw Stop*
10/10 - Englewood, CO @ Moe's*
10/12 - Minneapolis @ First Avenue*
10/13 - Chicago, IL @ Beat Kitchen*
* with Stepdad, Terror Pigeon Dance Revolt
- - -
Press release provided by Killbeat Music