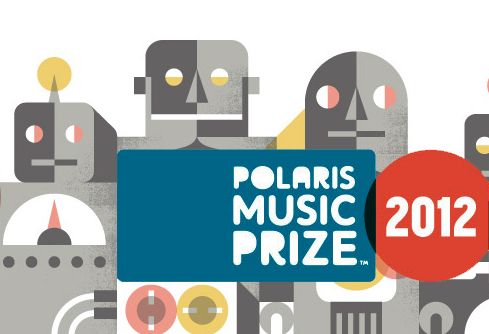 THE 2012 POLARIS MUSIC PRIZE GALA ANNOUNCES GALA HOSTS
SHORT LIST POSTER DESIGN ARTISTS REVEALED
Steve Jordan, Founder and Executive Director of the Polaris Music Prize announced that CBC Radio3's
Grant Lawrence
will be returning for his 6th year as co-host of the Polaris Music Prize Gala. Joining him this year will be
MuchMusic
's
Lauren Toyota
, a fellow jurist. Grant and Lauren will share the stage of the Concert Hall Studios at Bell Media's Masonic Temple on September 24th as the invite-only audience and viewers and listeners at home enjoy performances by
Cadence Weapon, Cold Specks, Kathleen Edwards, Feist, Fucked Up, Grimes
, and
YAMANTAKA // SONIC TITAN.
The entire event will stream live on Muchmusic.com and will be broadcast live exclusively on SiriusXM radio (Sirius channels 151 and 152; XM channel 151) and CBC Radio 3. Highlights from the gala will air in a one-hour special, exclusively on MuchMusic, on Saturday, September 29 at 10pm ET.
Grant will travel from Vancouver for the gala. As a host on CBC Radio 3 he's been a great supporter of Canadian music.
"I can't believe we're at year seven of the Polaris Prize already! It's been a great honour to be involved in this amazing process since the very beginning,"
reflects Grant Lawrence.
"In year one I was a Grand Juror, and I've been lucky enough to somehow be allowed to host the gala ever since. From the podium, I've been witness to some incredible musical moments. With the wide array of talent we have up for the Prize this year, 2012 will be no different.
"
For more information on Grant Lawrence visit
here
.
No stranger to the stage, Lauren Toyota, the host of MuchMusic's popular New.Music.Live., is accustomed to making sure a show runs smoothly. "I'm so thrilled to be part of The 2012 Polaris Music Prize - a show that awards musicians who work so hard and really deserve the attention," commented Lauren. "Getting to host the show this year is such an unbelievable honor. The gala is such a fun night with friends and fellow music lovers so I truly can't wait!" For more information on Lauren Toyota visit
here
.
The Polaris Music Prize is also happy to unveil the designs for this year's coveted Short List commemorative posters. Along with official curator, Kid Icarus, Polaris commissions the best in art and graphic design to create an ultra-limited edition run of posters inspired by the 10 Short List albums. Each poster is framed and presented to each Short List artist who appears at the gala.
"The posters have come to symbolize the Polaris mission. The artists who create them have come up with images that are every bit as vibrant, challenging, weird and wonderful as the nominated albums," explained Jordan.
Here are this year's poster artists:
Cadence Weapon – Hope In Dirt City –
Genevieve Simms
Cold Specks – I Predict A Graceful Expulsion –
Jud Haynes
Drake – Take Care –
Sandi Falconer
Kathleen Edwards – Voyageur –
Kirsten McCrea
Feist – Metals –
Pat Hamou
Fucked Up – David Comes To Life –
Alex Westgate
Grimes – Visions –
Stephanie Cheng
Handsome Furs – Sound Kapital –
Jack Dylan
Japandroids – Celebration Rock –
Luke Ramsey
YAMANTAKA // SONIC TITAN – YT//ST –
Jeremy Dimmock
A very limited quantity of each poster will available for purchase by the public starting September 17th. Posters can be viewed on the Polaris site and purchased directly via
http://www.kidicarus.ca/ki_ecommerce/index.php?search=2012%20polaris
About the Polaris Music Prize
The Polaris Music Prize is a not-for-profit organization that annually honours, celebrates and rewards creativity and diversity in Canadian recorded music by recognizing, then marketing the albums of the highest artistic integrity, without regard to musical genre, professional affiliation, or sales history, as judged by a panel of selected music critics.
www.polarismusicprize.ca.
- - -
Press release provided by Indoor Recess Inc.