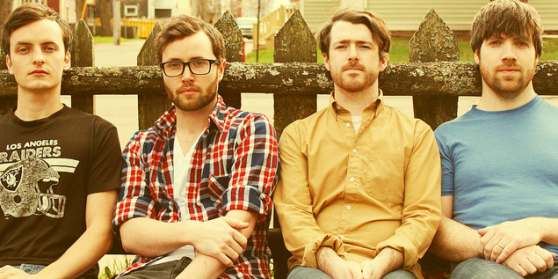 The tireless Charlottetown indie pop-rockers, Paper Lions, announce a new cross-country fall tour to support their recently released At Long Creek acoustic EP. After a busy spring and summer performing and recording their most recent EP and their upcoming sophomore album, the band is set to hit the road once more. The tour, presented by Exclaim! Magazine, will take the band through over twenty stops from coast to coast and includes 2 performances at Pop Montreal in mid-September.

As the year draws to a close, 2012 proves to be one of the most productive that Paper Lions have had. Early in the year, their music video for "Travelling" hit one million views on YouTube. Presently it's nearing the 2 million mark! Their At Long Creek acoustic EP was released as a free download this summer and quickly became the feel-good soundtrack of the season across the Canadian blogoshere and CBC airwaves. Music mogul Alan Cross described its undeniable charm as "acoustic friendliness" and it has since been downloaded over 10,000 times. Still, their drive and love for music is insatiable. Recently, members of the band have found a new way to engage their local community by initiating Charlottetown Pop, the city's newest music festival which will open in 2013. On top of the all the activity, Paper Lions have finished recording their sophomore, full-length. Fans can expect a winter 2012 release.


PAPER LIONS - Bodies In The Winter from Southern Souls on Vimeo.

The band is releasing a short documentary in October about the making of At Long Creek, shot over the course of the sessions.
TOUR DATES
Sep 13 @ Harvest Blues & Jazz Festival, FREDERICTON
Sep 14 @ Dalhousie University, HALIFAX
Sep 19 @ Le Divan Orange, MONTREAL (*AB Afternoon Soiree Day Party)
Sep 19 @ Le Petit Campus, MONTREAL (*Pop Montreal)
Sep 22 @ Nathan Philips Square, TORONTO
Sep 24 @ The Guild, CHARLOTTETOWN
Sep 27 @ Breezeway Bar, ST JOHN'S
Sep 28 @ Grenfell Campus - The Backlot, CORNER BROOK
Sep 29 @ George's Fabulous Roundhouse, SACKVILLE
Oct 5 @ Hunter's Ale House, CHARLOTTETOWN
Oct 25 @ L'Agitee, QUEBEC CITY
Oct 26 @ Quai des Brumes, MONTREAL
Oct 27 @ Zaphod Beeblebrox, OTTAWA
Oct 28 @ the Casbah, HAMILTON
Oct 29 @ The Historic Red Dog, PETERBOROUGH
Oct 30 @ Red Hot Chili Pepper, ST CATHARINES
Oct 31 @ Paddy Flaherty's, SARNIA
Nov 1 @ The Mansion, KINGSTON
Nov 2 @ London Music Hall (Lounge), LONDON
Nov 14 @ Media Club, VANCOUVER
Nov 15 @ 90th Street Pub, KELOWNA
Nov 16 @ Avenue Theatre, EDMONTON
Nov 17 @ The Gateway Bar, CALGARY
LINKS
Press release provided by

Audio Blood