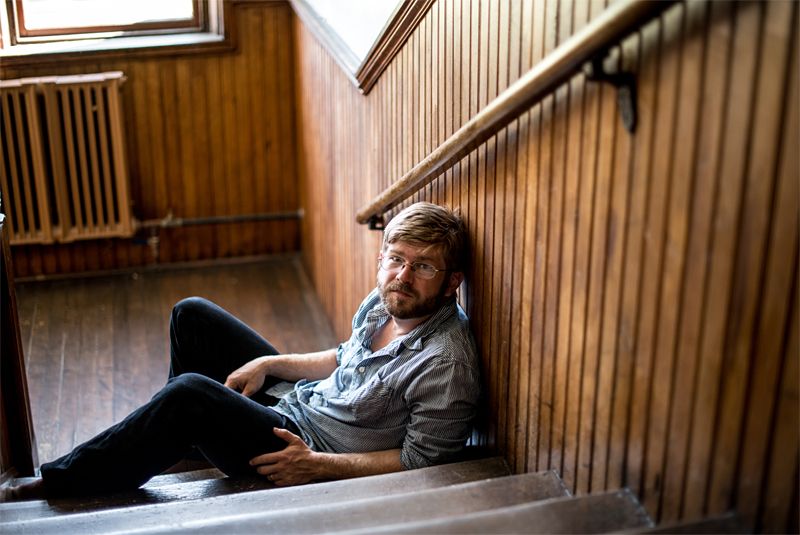 Two time JUNO Award winner from Nova Scotia signs to True North for 5th full length album, produced by Grammy Award winner Tim O'Brien.
Download five songs from the upcoming album for a limited time now. "Tender Is The Night" comes out October 2nd.
Old Man Luedecke isn't afraid to put his neck on the line. His latest album, "Tender Is The Night", goes beyond his beloved solo, banjo-driven folk tunes. Driving a Nashville band from beginning to end with his recognizable voice, this is an artist honing his cunning lyrical flair - tenderly pushing the boundaries of his storytelling with his unique mix of folk, bluegrass and pop hooks.
Old Man Luedecke has a penchant for language. Based in Chester, Nova Scotia, the award-winning roots singer-songwriter's latest album, "Tender Is The Night", gives nod to F.R. Scott Fitzgerald's famous novel, a title lifted from John Keats poem, 'Ode To A Nightingale.'
With skillful precision and a storyteller's heart, Luedecke's narrative-driven folk songs are playful, coy, and soul warming. Rich in metaphor, heart and instrumentation, "Tender Is The Night" muses on love, art and purpose.
"I am running like everyone else. Laughing just to keep from crying. I am always trying to find a way to express,"

says Luedecke.

"I am a prisoner for my appreciation for language; language that moves me is language that is unusual. I feel like it's an important thing I can contribute to songwriting."
After touring the globe, winning multiple Juno Awards, and becoming a father to twin girls, Luedecke has finally found confidence in himself, and his art. "Tender Is The Night" is a balancing act, a collection of songs artfully crafted, and tenderly performed.
"The songs are about a variety of topics, a meditation on art and ambition is present in a lot of what I do. Art and whether there is spiritual success without worldly success, that's at the heart of "Tender Is The Night","

says Luedecke.
Recorded live in Nashville at The Butcher Shoppe in four days with producer Tim O'Brien, Old Man Luedecke's fifth album Tender Is The Night, follows up My Hands Are On Fire and Other Love Songs (Black Hen Music, 2010), Proof of Love (Black Hen Music, 2008), Hinterland (Black Hen Music, 2006), and Mole In The Ground (2003).
Old Man Luedecke Tour Dates
09/07/12: Ottawa, ON, Ottawa Folk Festival
09/08/12: Halifax, NS, Summer Sonic - Garrison Grounds
09/14/12: Ville de Bouctouche, NB, EcoFest - Auberge Vieux Presbytere Inn
10/13/12: Sterling ON, Hastings Beer Festival
10/17/12: Winnipeg, MB - Park Theatre **
10/18/12: Regina, SK - Artful Dodger **
10/19/12: Saskatoon, SK - Lydia's Upstairs **
10/21/12: Calgary, AB – Ironwood **
10/22/12: Canmore, AB - Communitea Café **
10/24/12: Nelson, BC - Royal on Baker **
10/26/12: Victoria, BC - St. Ann's Auditorium **
10/27/12: Vancouver, BC - St. James Hall **
11/02/12: Halifax, NS – St. Matthews Church
11/03/12: Charlottetown, PE - Confederation Centre
11/21/12: Montreal, QC - Divan Orange **
11/22/12: Toronto, ON - Glenn Gould Theatre **
11/23/12: London, ON - London Music Club **
11/24/12: Kingston, ON - Grad Club **
11/27/12: Guelph, ON - Albion Hotel **
11/28/12: Hamilton, ON - Pearl Theatre **
11/29/12: Kemptville, ON -The Branch **
12/01/12: Peterborough, ON - Red Dog Tavern **
** With Grey Kingdom