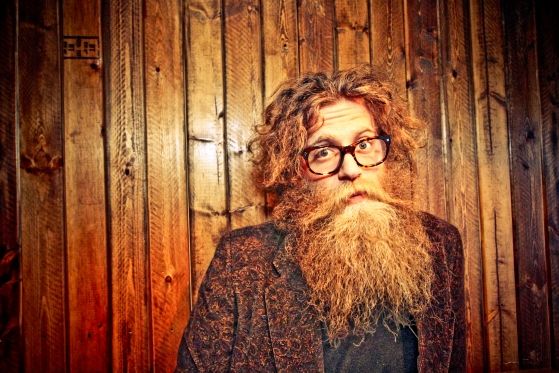 Big bearded fellow Ben Caplan heads out on ANOTHER European tour, this time with Norway pop sensation Katzenjammer.
Halifax's Ben Caplan is setting out on a massive European tour this fall. This will be his fifth venture overseas, and includes a stop at Germany's Reeperbahn Festival. In September, Caplan's travels will lead him through the Netherlands, Germany, France, Switzerland, Poland, and Belgium. In October he will join Norwegian folk/pop band Katzenjammer for a tour of the UK. Not long afterwards Caplan will finally return home for a special performance with Symphony Nova Scotia bringing his songs to full orchestral glory.
The summer has seen Ben Caplan travelling all over with international festival stops including Toronto's North by Northeast, to Milwaukee's Summerfest and Munich's Tollwood Festival in July. Caplan took a brief break earlier this month to film a new music video for the track 'Conduit'. Filmed at the Cuppa Coffee Studios in Toronto, the video will feature a custom-built, miniature world seen through the eyes of an equally tiny train. A fundraising campaign was launched through PledgeMusic, a crowd-source funding website, seeking $2,500 for the execution of the video – the goal was reached within a month of the launch.
After a breakout performance at this year's East Coast Music Awards, in which Ben Caplan & The Casual Smokers performed at the Awards Gala, CBC named the group the "2012 ECMA Buzz Band" and support has followed Caplan internationally. With a stacked touring schedule until the end of the year it's evident that Ben Caplan won't be slowing down anytime soon. Tour dates below.
TOUR DATES
Sept 1 @ Roodehaan, WARFHUIZEN, NL
Sept 2 @ Abbey Sessions, THORN, NL
Sept 2 @ Effenaar Tuin, EINDHOVEN, NL (**Branded Zand Festival)
Sept 5 @ Paradiso, AMSTERDAM, NL
Sept 6 @ Simplon, GRONINGEN, NL
Sept 7 @ VLIELAND, NL (**Into the Great Wide Open)
Sept 8 @ Patronaat, HAARLEM, NL
Sept 9 @ Timboektoe, WIJKAANZEE, NL
Sept 11 @ Water Rats, LONDON, UK
Sept 14 @ De Nodige Deugd, MOORSLEDE, BE
Sept 15 @ Le Grattoir, GERARDMER, FR
Sept 16 @ La Truite de Argent, TAVIGNY, BE
Sept 17 @ Ponyhof, FRANKFURT, GER
Sept 19 @ Muffatcafe, MUNICH, GER
Sept 20 @ Haldern Pop Bar, HALDERN, GER
Sept 21 @ Bassy, BERLIN, GER
Sept 22 @ Hörsaal, HAMBURG, GER (**Reeperbahn Festival)
Sept 25 @ Papiersaal, ZURICH, SZ (**Tigerr Fest #1)
Sept 26 @ D! Club, LAUSANNE, SZ (**Tigerr Fest #1)
Sept 28 @ Roztywki Trzy, KRAKOW, PL
Sept 29 @ Cafe Kulturalna, WARSAW, PL
Oct 25 @ Junction, CAMBRIDGE, UK
Oct 27 @ The Cockpit, LEEDS, UK
Oct 28 @ Oran Mor, GLASGOW, UK
Oct 29 @ Library, BIRMINGHAM, UK
Oct 31 @ Islington Academy, LONDON, UK
Nov 1 @ Academy 2, OXFORD, UK
Nov 2 @ Sound Control, MANCHESTER, UK
Nov 3 @ Thekla, BRISTOL, UK
Nov 16 @ Rebecca Cohn Auditorium, HALIFAX, NS (**Special Performance & Collaboration with Symphony Nova Scotia)
LINKS
http://www.bencaplan.ca
http://www.facebook.com/TheCasualSmokers
http://twitter.com/bencaplanmusic
- - -