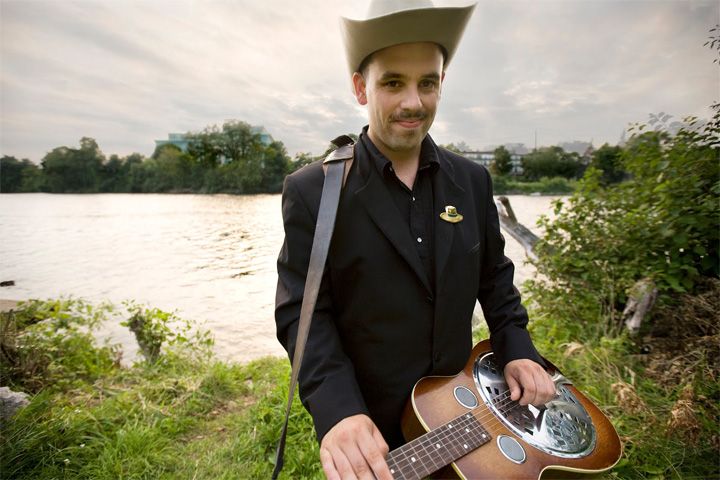 Nick Ferrio & His Feelings releases their self-titled debut Tuesday, September 18 on Shuffling Feet Records. A member of both The Burning Hell and Baby Eagle & The Proud Mothers, this is the first time Ferrio has brought his songs to the forefront.
He began recording the album in December, 2011 with Ian Romano at the 2? 16 track studio he shares with his brother, Daniel Romano, in Welland, ON.
Joined by Ryan Perks on lead guitar, Emmott Clancey on drums, Liam Wilson on bass, Chris Altmann on pedal steel, Caylie Staples and Spencer Burton (of The Grey Kingdom) on harmony vocals, Nick Ferrio & His Feelings made a record of country music the way it was recorded generations ago – with ribbion mics and tape machines.
The album was mixed by Dan Weston (City and Colour, Daniel Romano) and mastered by Harris Newman of Grey Market Mastering. It will be released on September 18, 2012 on Shuffling Feet Records, a record label run by Jonas Bonnetta and Sylvie Smith of Evening Hymns.
The songs on this self-titled album reflect the travels Ferrio has had as a musician on the road. Songs like "Night Garden," "Popular Flower" and "Always Searching" contemplate the pining a travelling musician feels miles away from the one he loves. "Free Man, Switzerland" is a cautionary, autobiographical tale of a night he wound up in a Swiss Jail. "The Trial of Mary Harshbarger" tells the story of a woman who killed her husband on a hunting trip in Newfoundland mistaking him for a bear, a story Ferrio heard on the CBC while touring Newfoundland and had to turn into a song.
Upcoming tour dates:
September 19 - Peterborough, ON - Montreal House w/ Shotgun Jimmie, Baby Eagle and J. Kutchma
September 20 - Guelph, ON - E-Bar
September 21 - Kingston, ON - The Artel
September 27 - Toronto, ON - Silver Dollar w/ The Pining and Coole & Downes
September 28 - Hamilton, ON - This Ain't Hollywood w/ The Dinner Belles
September 29 - Quebec City, QC - L' Agitee
September 30 - Moncton, NB - Plan B w/ Colonial Quarrels
October 01 - Halifax, NS - The Company House
October 4 - St. John's, NL - The Ship w/ the Burning Hell
October 5 - St. John's, NL - Inn of Olde
October 6 - Port Rexton, NL - Two Whales Cafe