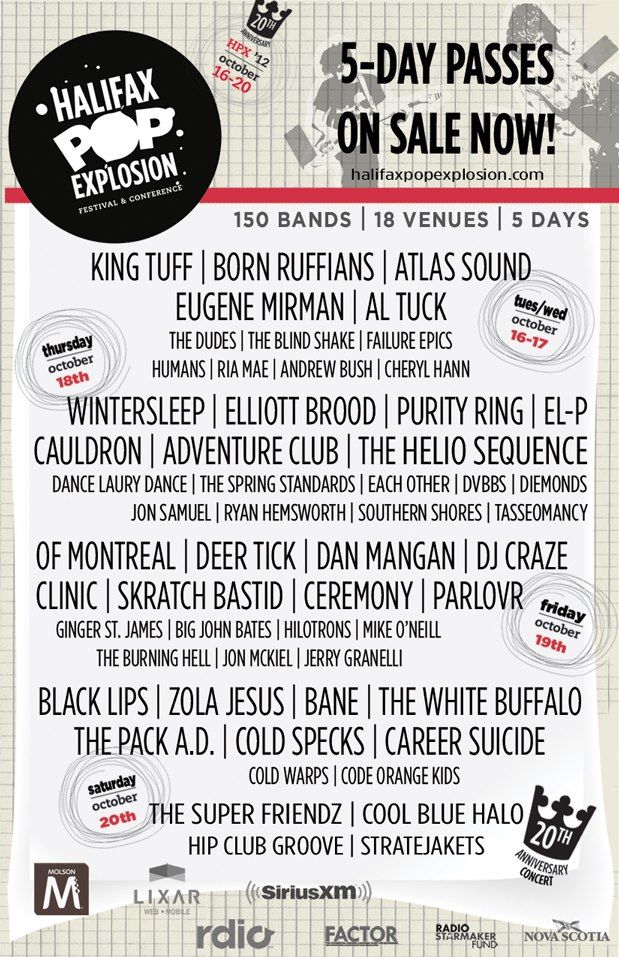 Halifax Pop Explosion (HPX) has announced the complete line-up for its 20th anniversary festival. Following a list of previously confirmed acts that features of Montreal, Atlas Sound, Black Lips, and Dan Mangan with Symphony Nova Scotia, HPX has released the names of 160
artists including Ceremony,
Cauldron
,
DJ Craze
,
The Helio Sequence
, and
Skratch Bastid
that will perform this year.
Halifax Pop Explosion takes places from October 16-20. With shows at various venues around the city, the festival brings together an international list of acclaimed acts to perform alongside some of the city's most renowned and storied artists.
The complete line-up for the 2012 Halifax Pop Explosion is as follows:
Ado, Adventure Club, Ain't No Love, Al Tuck, Ambersand, Ambition, Amos the Transparent, Andie Bulman, Andrew Bush, Astral Gunk, Atlas Sound, Bad Vibrations, Bane, Barlow, Big John Bates, Billie Dre and the Poor Boys, Bit Funk, Black Lips, Black Moor, Bloodhouse, Born Ruffians, BONKO BIANCA, Bredrins, Buddy McNeil and the Magic Mirrors, Camp Radio, Canailles, Career Suicide, Castle Wolfenstein, Catriona Sturton, Cauldron, Ceremony, Cheryl Hann, Clinic, Code Orange Kids, Cold Specks, Cold Warps, Cool Blue Halo, Crosss, Dan Mangan with Symphony Nova Scotia, Dance Laury Dance, Death Valley Driver, Deer Tick, Demetra, Diemonds, DJ Craze, DJ IV, DJ James Reid, Doc Brown, Doom Squad, Dumpster Mummy, DVBBS, Each Other, El-P, Elliott BROOD, English Words, Eugene Mirman, Extra Happy Ghost!!!, Fat Stupids, Failure Epics, Flag On The Play, Folly and the Hunter, Freak Heat Waves, FRESHTABLES, Gabrielle Papillon and the Mighty Oak, Gianna Lauren, Gigas, Ginger St. James, Glory Glory, The Green Reflectors, Hands and Teeth, Heather Green, Hey Mother Death, Hilotrons, Hip Club Groove, HUMANS, Hymm, INSTRUMENTS, Irreverand James and the Critical Mass Choir, Jaguar Knight, Jerry Granelli, Jon Mckiel, Jon Samuel, Kestrels, King Tuff, Kuato, Lantern, Like a Motorcycle, Long Distance Runners, Long Weekends, Mardeen, Mark Davis, MattyBoh, Meisha and the Spanx, Merv Hartlen, Metalheart, Mike O'Neill, Mo Kenney, Monomyth, Napalm Raid, Nick Bike, Nick Everett & Everybody, North Lakes, of Montreal, Old & Weird, OUTTACONTROLLER, Owen Dacombe Steel, P80, PANOS, Paper Beat Scissors, Parlovr, Pat LePoidevin, Ponctuation, Purity Ring, Quiet Parade, Rain Over St. Ambrose, Revelstoke, Ria Mae, Robert Loveless, Ryan Hemsworth, Sea Glasses, Seamus Erskine, Sheer Agony, Shooting Guns, Skratch Bastid, Slam Dunk, Slow Down, Molasses, Sonic Avenues, Southern Shores, Special Costello, Stalwart Sons, Steve Mackie, Stop Motion Massacre, Strate Jakets, Tasseomancy, Technical Kidman, Terra Lightfoot, The Belle Comedians, The Bicycles, The Blind Shake, The Burning Hell, The Dudes, The Elwins, The Group Sound, The Helio Sequence, The I don't give a rips, The Nymphets, The Pack A.D., The Wides, The Spring Standards, The Super Friendz, The White Buffalo, This Sound Will Save You, TORSO, We're Doomed, Weirdo Click, Willie Stratton, Wind Up Radio Sessions, Wintersleep, Writers' Strike, Yellowteeth, Young River, and Zola Jesus.
With a legacy that includes Arcade Fire, Cat Power, Girl Talk, Elliott Smith, and GZA, the Halifax Pop Explosion has been host to countless unforgettable moments in its long history. Ranging

from

Yo La Tengo opening for Sloan in the tiny Café Ole, to Owen Pallett backed by Symphony Nova Scotia at The Rebecca Cohn, to Monotonix performing on top of the traffic lights outside of Gus' Pub, all have shaped the event and helped developed it into one of Canada's most respected music festivals. In its 20 years, it has grown from booking 19 acts in 1993 to over 160 in 2012. It has evolved from being run by a group of enthusiastic volunteers to its current die-hard, full-time staff. One thing that has remained the same, however, is the festival's unrelenting focus on bringing some of the most exciting acts from North America and beyond to the East Coast of Canada every fall.
Priority Passes: $150 Regular
Sponsors of Halifax Pop Explosion 2012 include: Molson Coors, Lixar, Sirius XM Canada, Rdio, FACTOR, Radio Starmaker Fund, and the Province of Nova Scotia.