The 13th Annual Evolve Music and Awareness Festival
July 20, 21 & 22 in Antigonish, Nova Scotia, Canada
featuring Deerhoof, Hey Rosetta!, Shout Out Out Out Out, Dan Deacon, The Garrett Mason & Keith Hallett Show, Rich Aucoin, Skratch Bastid, Gramatik, Chali2na w/ Break Science, Grand Theft Bus, Scientists of Sound, Gypsophillia, The Idlers, Keys n Krates, Olympic Symphonium, Paper Beat Scissors, Slowcoaster, The Funk Hunters, Three Sheet, Vinyl Ritchie
+ over 150 acts on 5 stages!
Recently chosen as one of Canada's Top 10 Outdoor Festival's by CBC Radio's Grant Lawrence in his "Go Outside and Play" blog,
Evolve Festival 2012
touches down on weekend of July 20-22, in the spectacular rolling oceanside hills of Antigonish, Nova Scotia! Over 150 acts from around the world are scheduled to perform, and with over 75% from the Maritimes Evolve continues to distinguish itself as the summer's largest showcase for local talent. The mainstage of Evolve 2012 will be curated by one of Canada's hottest international buzz artists
Rich Aucoin, with
another stage run by East Coast sceneshapers
Forward Music Group Label.
Evolve has always been known for awakening consciousness, and this year it will awaken festivalgoers' senses like never before. For 2012, Evolve is honoured to welcome Tyrone Reveen of Streamer Effects International to the A/V and effectrs team. The son of legendary magician "A Man Called Reveen", Tyrone is one of the world's most respected special effects and event experience gurus. Clients who use his wizardry to enhance their events include ZZ Top, Miley Cyrus, and the National Football League. He invented the world's first portable High Performance Confetti Cannon, and his innovations in pyrotechnic simulation have revolutionized stadium and arena events. Evolve attendees are in for an experience they'll never forget! For more information on SEI, visit
www.streamereffects.com
Limited quantities of tickets for Evolve 2012 are still available online via Ticketpro, through their affiliate locations as well as local vendors in Nova Scotia, New Brunswick, PEI & Newfoundland. For more info on ticket outlets & locations, click here:
The Evolve Music and Awareness Festival is an annual 3-day summer celebration of music, culture, and social awareness. From its humble beginnings in 2000 as a grassroots music and awareness festival featuring local bands, the festival has grown to become one of the finest outdoor festivals in the world -- with performers from around the globe, workshops that inform spectators about social issues and environmental awareness, and an overall commitment to enhancing personal and community well-being. Evolve was named Canada's #1 Festival by CBC Radio 3 listeners in 2010, and U.S-based Outside Magazine has distinguished Evolve as one of its Top 10 Outdoor Festivals.
Evolve is an immersive weekend music and camping experience. With paid festival admission, wristband-wearers are invited to free camping on soft grass in designated General and Family Camping areas. All camping is a short walk from the stages and parking areas and will offer full-service facilities, including port-a-johns, drinking water, and sink stations. More than just a great music festival, Evolve also offers attendees an amazing range of activities and workshops -- to nourish the mind, body and soul and give thousands of festivalgoers the inspiration they need to keep the true spirit of Evolve alive in communities across Canada and the world.
With the help of a community receptive to sustainability action, and organizers who are dedicated to doing their part to ensure a green future, Evolve has been dubbed "
Canada's greenest festival.
" Since its inception, Evolve has shown that it is possible host a fun outdoor music festival, while at the same time championing environmental causes issues and inspiring positive behavioural change.
Upon entering the festival site, all Evolve attendees will participate in a ceremony led by a local native elder, in which they will commit in a spiritually authentic fashion to Evolve's Green Pledge; to be environmentally responsible during their time at Evolve. Musicians will reference the Green Pledge from the stage, reinforcing the message as a core theme of Evolve. A "Green Team" will help festival goers sort and dispose of their waste. Eastern Region Solid Waste Management (ERSWM) is providing enhanced clustering and signage for recycling and waste that will make disposal more efficient, and will have a booth set up in the Awareness Village with information on sorting and disposal; ERSWM is a committee of representatives from the six municipal councils in Antigonish and Guysborough counties who are dedicated to ensuring that the area achieves the disposal and recycling goals set out in the Environmental Goals and Sustainable Prosperities Act. All Evolve posters and marketing materials are printed on select recycled stock using environmentally-friendly waterless printing presses that eliminate vast amounts of water waste. Our print shop uses sustainable, renewable Bullfrog Power to run their printers. Festival clothing merchandise is printed on either organically grown cotton or recycled materials using fair trade and labour practices. And Evolve food vendors in the village use compostable and biodegradable food packaging and cutlery.
Part indie-rock preacher, part wunderkind,
Rich Aucoin
has just released a remarkably ambitious album,
We're All Dying To Live
. Aucoin invited anyone and everyone -- from St. John's, NL to Dawson City, YK -- to be on the record. This result is a musical scrapbook uniting over 500 musicians from community choirs to some of Canada's best-known artists, friends and fans from across Canada.
""The record is really about making big life decisions or at least about thinking about those decisions and how to live one's life," says Aucoin. It follows up on his 2007 debut
Personal Publication
, an EP that synchs to Dr. Seuss'
How The Grinch Stole Christmas
,.
Much like the makings of We're All Dying To Live, Aucoin wants to be surrounded by everyone he knows and loves and everyone he has yet to know and love every night forevermore. Cash in your golden ticket to an all inclusive electro-pop dance explosion!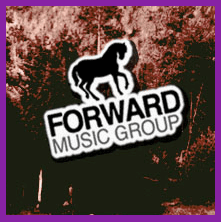 About the Forward Music Group
In the far East of Canada, amongst the forests of the Saint John River Valley, rose a music community of musicians and friends in the province of New Brunswick. The Forward Music Group began as a label with a small collection of bands in 2007, releasing 12 albums in its first two years. Now with 29 releases from over 13 artists, and offices in both Halifax and Fredericton, they have entered the international scene and highlighted Atlantic Canada as a vibrant source of music.
For more information about Evolve Festival visit: