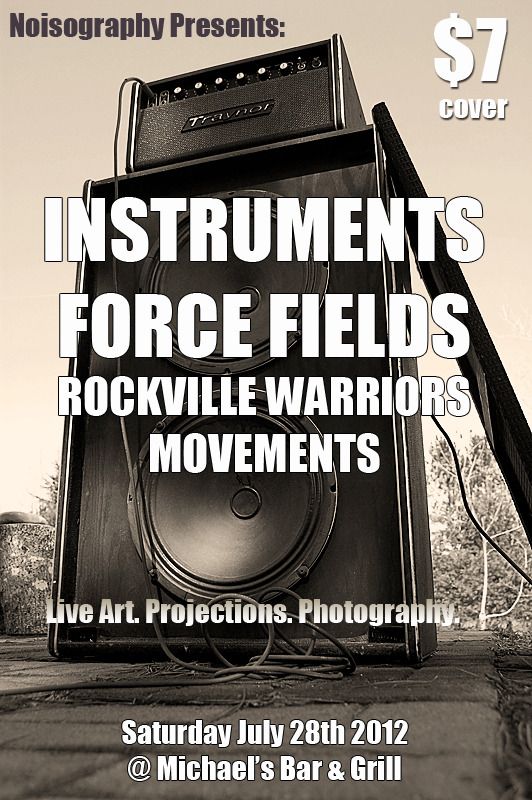 Make way for an evening of epic proportion!
Saturday, July 28, 2012
Experimental.
Instrumental.
Visual.
Loud.

INSTRUMENTS
"Mathical mythrock band based in Halifax, Nova Scotia, Canada"
https://www.facebook.com/we3instrumentsbe

Force Fields
"soft and pretty, loud and heavy, dramatic"
Fredericton, New Brunswick
https://www.facebook.com/fallonsscraph

Rockville Warriors
"Named after a regional gang based out of Rockville, Yarmouth County, The Rockville Warriors are here to set the soundtrack for foggy friday nights behind the k-mart mall..."
https://www.facebook.com/RockvilleWarriors

Movements
"Movements. Low frequency tidal waves to collapse your body and unbalance your mind."
Past and present members of: Tomcat Combat/Bewilderbeast/HP\MP/Mantasy
https://www.facebook.com/pages/Movements/125394330872794

Show will also include a mini photo gallery by Noisography photographers (and others), Live art by Halloway Jones (of JONESTOWN - http://jonestownartparty.tumblr.com/), merch up the whazoo and so much more!!

Expect to have all your senses thoroughly assaulted!

$7.00 cover.

- - -

Presented by Noisography

http://noisography.com/
https://www.facebook.com/Noisography
This is Noisography's 2nd and last show of 2012, featuring some our favorite East Coast bands.
We are so happy to be presenting this show and really hope that you come out and join us in an amazing night of sights & sounds!
- - -
More info to follow