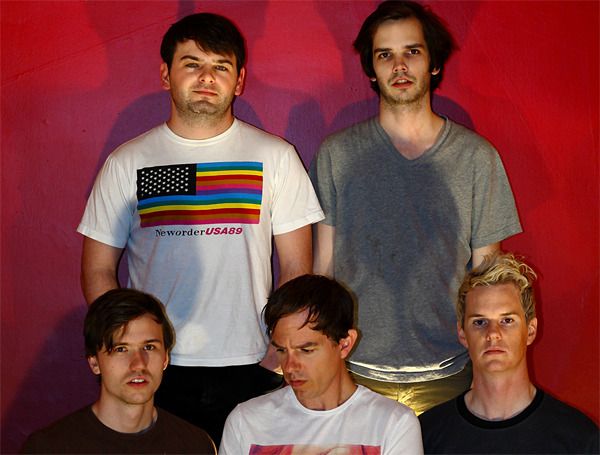 HOMETOWN CD RELEASE SHOW
SEPTEMBER 7th
In the winter of 2011, Charlottetown, PE, was imprisoned in a sea of snow. Perfect conditions for an artistic rebirth. The ever-restless men from English Words, recently numbed by guitars and drums, went crate diving one night into their own record collections, mining for inspiration. A year later their debut album, Red Potion, was complete and is now ready for release on September 18, 2012 with a special hometown release show on September 7th at Hunter's Ale House. A 33-minute collage of new wave and 80's alternative, with 70's synth ambience, bursts of neo-psychedelia and even a hint of Britpop, Red Potion borrows from each style creating a new wave hybrid. For a taste of what listeners will find on Red Potion, check out the first single, People I Love, here. The super catchy track is available for free download on the band's website.
Produced by Holy Fuck bassist Matt McQuaid, Red Potion was recorded at Old Confidence Lodge in Riverport, NS by Diego Medina, and mixed by Stew Crookes at Stewdio in Toronto. Primary songwriters Aaron Crane (synths/sampler/drum machine) and his brother Ryan (vocals), with essential collaborators Todd MacLean (synths), and Andrew Murray (guitars) headed into the studio, borrowing heavily from a fresh palate of mechanical rhythms, samples ranging from low-fi indie rock to Pakistani surf rock, early 4AD synths, and hooky pop. Bass player Thayne Campbell joined the band about a week after recording was completed.
All 10 songs – reverbed, delayed, and neatly crunched – feel like a high speed tunnel drive with the top down - gusty vortexes of moving air, dark mystery at the centre, racing towards the light at the end. The music layers creative, punchy rhythms with stylish synth lines, efficiently placed guitar, and modest bass drops. Red Potion shifts gears between fully charged electro rock, woozy after-hours ballads, and spacey experimental pop, allowing it to resonate during personal listens and in more gregarious settings, as reflected in both the band's live show and the club-stomping lead single People I Love.
Preceding their debut effort, the group played tightly wound, guitar-and-drum based indie rock. A four song EP, Customer Appreciation, was released in early 2010, and saw the band's single Rope climb CBC Radio 3's R30 chart. The band, both as English Words and former moniker Smothered In Hugs (a name stolen from a Guided By Voices song) have played countless shows at home in Charlottetown, and have frequently toured Eastern Canada playing POP Montreal, NXNE, and the Halifax Pop Explosion.