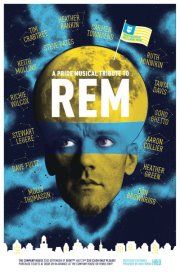 Halifax based Angels & Heroes Theatre Company (A&H) presents their 6th annual fundraiser, A Pride Tribute Concert: R.E.M., on Monday, July 23, 2012 at The Company House.
Facebook Event:
https://www.facebook.com/events/382194665176489/
Show begins at 8pm – $20.
Tickets can be purchased at the door, or in advance (recommended) at The Company House and Venus Envy.
Yes! Angels & Heroes are at it again, bringing many of Halifax's best musicians to the stage, each with a unique rendition of their favourite R.E.M. song. Hosted by A&H co-founder, Tara Patriquin, this year's outstanding line-up includes the amazing talents of: Tanya Davis, Heather Rankin (of The Rankin Family), Dave Fultz, Stewart Legere, Carmen Townsend, Soho Ghetto, Richie Wilcox, Molly Thomason, Aaron Collier, Tim Crabtree (Paper Beat Scissors), Ruth Minnikin, Steve Gates, Keith Mullins, Don Brownrigg, and Heather Green.
Each year, A&H chooses the highlighted artist for their contribution to the music industry, providing the guest artists with an interesting platform for their own musical expression. More importantly, the event brings awareness to the pervasive issues surrounding Pride week by choosing a musician who is an influential figure in the queer community, or one who outwardly supports equality and diversity. While the night will echo with the music of R.E.M., it is Michael Stipe who is at the heart of the tribute. He joins the company of past artists: Rufus Wainwright, Elton John, Queen, David Bowie, and Annie Lennox.
"I'm really happy to be back at The Company House again this year. Especially in a year when it seems ever more pressing to support positive activity on Gottingen Street!" says Wilcox. And with so many new names added to the bill this year, Patriquin adds: "I'm growing more and more eager to see each performance!"

So, whether you enjoy the music of R.E.M., the talents of the guest performers, or want to support a Pride Week event, along with supporting a local independent theatre company, this event is sure to satisfy to a sold out crowd, if history repeats itself.
About Angels & Heroes Theatre Company:
Angels & Heroes is a theatre company based in Halifax, Nova Scotia. Founded in 2002 by three Dalhousie University Theatre graduates, Heather Davis, Tara Patriquin and Richie Wilcox. A&H strives to produce exciting and innovative shows as a viable alternative to mainstream theatre, and to showcase some of the untapped talent in the Halifax area. A&H is committed to the strange and the thought provoking, the silly and the sublime.