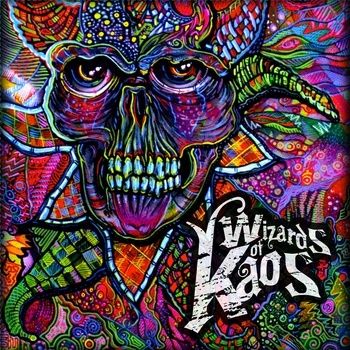 Certainly no surprises or subtleties here. Just as the flagrantly displayed, ominously foreboding yet colourfully psychotropic album cover suggests, this is a grand feast of bottom heavy and groove-driven stoner/space rock that delivers what it promises. This record features a spiritual quantum entanglement of Ozzy-era Sabbath, Blue Oyster Cult, Corrosion of Conformity, and Iron Butterfly. In other words, this is what Wolfmother wishes they were. Genuine metal moments complete with dark modal harmonies and crushing rhythms, psychedelic lyrical imagery and melodic interludes, and all with an audaciously cavalier rock 'n roll swagger basically rounds out this prismatic cornucopia of classic stoner metal goodness. The creative musical boundaries are clearly outlined as there is definitely a specific formula to the whole equation, however this takes nothing from the intrepid delivery and artistic candor.
The bruising aural assault begins with "Zeroes and Ones" which boldly showcases some furiously engaging guitar harmonies and a galloping rhythm which comes together into an anthemic suite of sounds borrowed from the Iron Maiden canon. This is all generously seasoned with some killer southern pentatonic grooves. "Digging Up Our Dead" espouses a simple but spirited power-chorded attack that is aligned with a seriously tight rhythm section all with a fiercely meticulous precision. The spirit of Sabbath's "Symptom Of The Universe" is tastefully resurrected with the intro to "New World Mistress", which is followed up with an interestingly dynamic song structure with shifting time signatures and high registered guitar dissonance. "The River" features some stellar competing guitar melodies and a really cool Kyuss-like feel.
There is no apparent effort to reinvent anything here. This could be taken as a point of criticism, however this is actually what lies in the band's overall charm. This record is an awe-inspiring sonic compendium of various tried-and-true sounds that are seamlessly fused together to create a masterfully cultivated space-metal mosaic. The heavy, groove-laden guitar riffs are at the forefront and provide the muscle, while the drums and bass hit hard to drive the point home, and the tuneful yet gritty vocals soar above it all to take the listener into a kaleidoscopic journey among the pot-smoke filled ether. If I owned a '77 Dodge Charger, I'd love to have this album on 8-Track so I can blast it while cruising around tripping on mushrooms.
https://www.facebook.com/Wizardsofkaos
http://d5digital.bandcamp.com/releases
-Mark Laffin 06/12