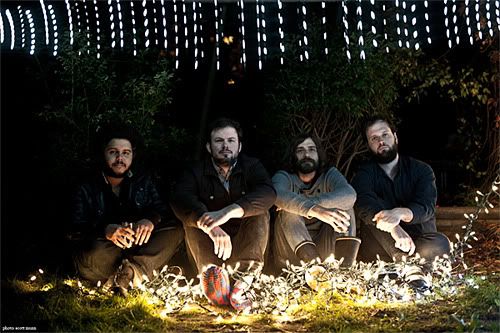 WINTERSLEEP
preview their album this June in Canada with intimate shows
Hello Hum
releases June 12 via Capitol Records/EMI
HALIFAX - This June, Halifax's Wintersleep are pleased to announce a special run of intimate shows for fans to hear the music off their new album, "Hello Hum." The tour brings them to stages in Victoria, Vancouver, Calgary, Edmonton, Saskatoon, Winnipeg and Toronto. Summer festival tour dates that were recently announced include Live in Squamish and Osheaga in Montreal.
"Hello Hum" is filled with resonant tunes which will burst many of these rooms at their seams, providing exactly the right introduction to their new album, whose tracks range from bright, upbeat pop, to soft, sweet ballads. Two songs from the new album are currently online (and one available for free download) at www.wintersleep.com
After winning a Juno Award for 2007's Welcome To The Night Sky, touring extensively in support of 2010's New Inheritors and performing on The Late Show With David Letterman last year, the band settled down during the summer of 2011 to focus on their next endeavor. Co-produced by Dave Fridmann (MGMT, The Flaming Lips) and Tony Doogan (Belle & Sebastian, Mogwai), Wintersleep's new album, Hello Hum, signifies a new chapter in the band's history. (Dave Fridmann also mixed the album.) The album was inspired by the member's collective experiences, waking dreams, and musical experimentations. The first single, In Came the Flood, is currently at rock radio and available for purchase on iTunes.
Wintersleep has seen successful tours in North America, the UK, Ireland and Europe, sharing stages with Pearl Jam, Broken Social Scene, Wolf Parade, The Hold Steady and Paul McCartney, among others and was praised by Flavorpill as having "catchy hooks, intricately crafted arrangements and intelligent lyrics."
TOUR DATES
VICTORIA - June 2 - Phillips Brewery
VANCOUVER - June 4 - The Biltmore Cabaret
CALGARY - June 5 - Hifi Club
EDMONTON - June 6 - The Pawn Shop
SASKATOON - June 7 - Amigos
WINNIPEG - June 8 - Pyramid Cabaret
TORONTO - June 12 - Lee's Palace
MONTREAL - August 3 - Osheaga
SQUAMISH - August 25 - Live in Squamish