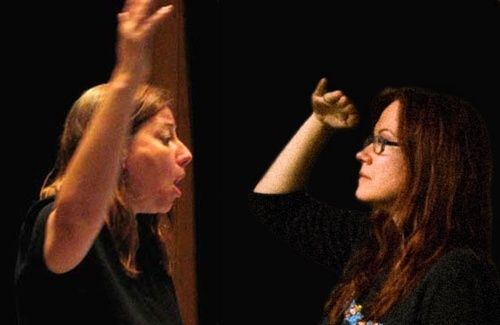 suddenlyLISTEN presents DB Boyko and Chistine Duncan
two concerts: one in a bathroom and one at The Bus Stop Theatre
Christine Duncan (Toronto) - voice
DB Boyko (Vancouver) - voice
Geordie Haley - guitar
Norman Adams - cello
two concerts: one in a bathroom and one at The Bus Stop Theatre
Bathroom - May 24th | FREE | Detials TBA
Bus Stop Theatre - May 25th | 8PM | $10/$20
The final suddenlyLISTEN Main Series Concert for 2011/12 is Vox Latrina, featuring Canada's two most innovative and collaborative vocalists DB Boyko (Vancouver) and Christine Duncan (Toronto). Christine is the leader of The Element Choir, Toronto's improvising choir. She has recorded and performed jazz and improvised music for years and has toured extensively. DB is Artistic Director of Vancouver's Western Front, one of the country's oldest artist run centres. Together Christine and DB will be performing two concerts and leading a workshop for people wanting to explore their voices and sing in an improvised choir (co-produced by Vocalypse Productions). The duo's first performance will be Stall, a work created for DB and Christine by Christopher Butterfield. This free performance will take place in a resonant washroom somewhere in Halifax, location to be announced. Next, Vox Latrina will showcase new improvisations for strings and voice with Halifax's Geordie Haley and Norman Adams at the Bus Stop Theatre. This week of activity will be a great time for Halifax audiences curious about voice to experience two of Canada's finest creative musicians in action.
DB Boyko Biography A specialist in experimental voice DB Boyko has performed with a variety of artists from the local and international creative music scene such as Paul Plimley, François Houle, Brad Muirhead, Paul Dutton and Evan Parker. She has had several guest engagements with the legendary NOW Orchestra/Orchestra Futura, Talking Pictures and the Vancouver Intercultural Orchestra. She is the co-founder of several improvising ensembles including Hextremities (1980's), the all women VIEW Ensemble (1990's) and the Crossing Borders Ensemble (2000). She is part of Idiolalla, a vocal tour-de-force with fellow vocalist Christine Duncan and drummer/spin doctor Jean Martin. She recently completed a Canadian tour with Duncan performing "Stall", a commissioned work by Victoria composer Christopher Butterfield, examining the lore of public washrooms.
Her influences and studies in Javanese gamelan court music, dance, puppet theatre, and butoh have led her to participate in a wide spectrum of multi-disciplined works with Mortal Coil, Snake in the Grass Theatre, Special Delivery Moving Theatre, Serge Bennethan, and Karen Jaimison dance companies. A specialist in traditional vocal repertoire for gamelan orchestra DB has sung and composed new works for Vancouver Gamelan Madu Sari.
Christine Duncan Biography
Christine Duncan began learning her craft in church. A minister's daughter, she performed with her musical family "The Duncans" in gospel shows on stages across North America from the age of five. When she was 15 she recorded her first album of her own original gospel tunes in Nashville.
Inevitably her roots led her from gospel and inspirational music to soul, singer songwriter folk music, R&B/blues, jazz and more recently, new music and improvised music. Since 1994, she has released 5 albums under her own name, and has been involved in many other recording projects, including 2 albums with the Hugh Fraser VEJI big band.
A musical chameleon with a near five octave range, Duncan uses her voice as an instrument, exploring its full tonal, timbral and textural range. She has recorded and/or collaborated with Bob Murphy, Hugh Fraser, Miles Black, Veda Hille, Paul Plimley, Danielle Palardy Roger, Jean Martin and performed with such names as Kenny Wheeler, Rufus Reid, Dave Young, P.J. Perry, Ray Charles, Linton Garner, Paul Horn, Jeff Healey, Andre Crouch, Sabeer Mateen, John Oswald, Paul Dutton, Nobuo Kabota and many others.
Recently she performed in 120 Songs for the Marquis de Sade, winner of the Alcan Performing Arts Award: Music/Opera 2002; a new opera premiere, written by Peter Hannan and Peter Hinton, which was presented in Vancouver BC, by Modern Baroque Opera and Vancouver New Music, in March, 2002.
Along with Christine's rapidly growing audience has come recognition in the form of a nomination for the Alcan and Pacific Music Industry Assn. 1997 West Coast Female Vocalist of the Year. She was also the subject of a CTV/BC Film funded documentary-portrait entitled Coming Home: Christine Duncan at Christ Church Cathedral, currently showing on BRAVO.
For more information on suddenlyLISTEN, visit:
http://suddenlylisten.com/