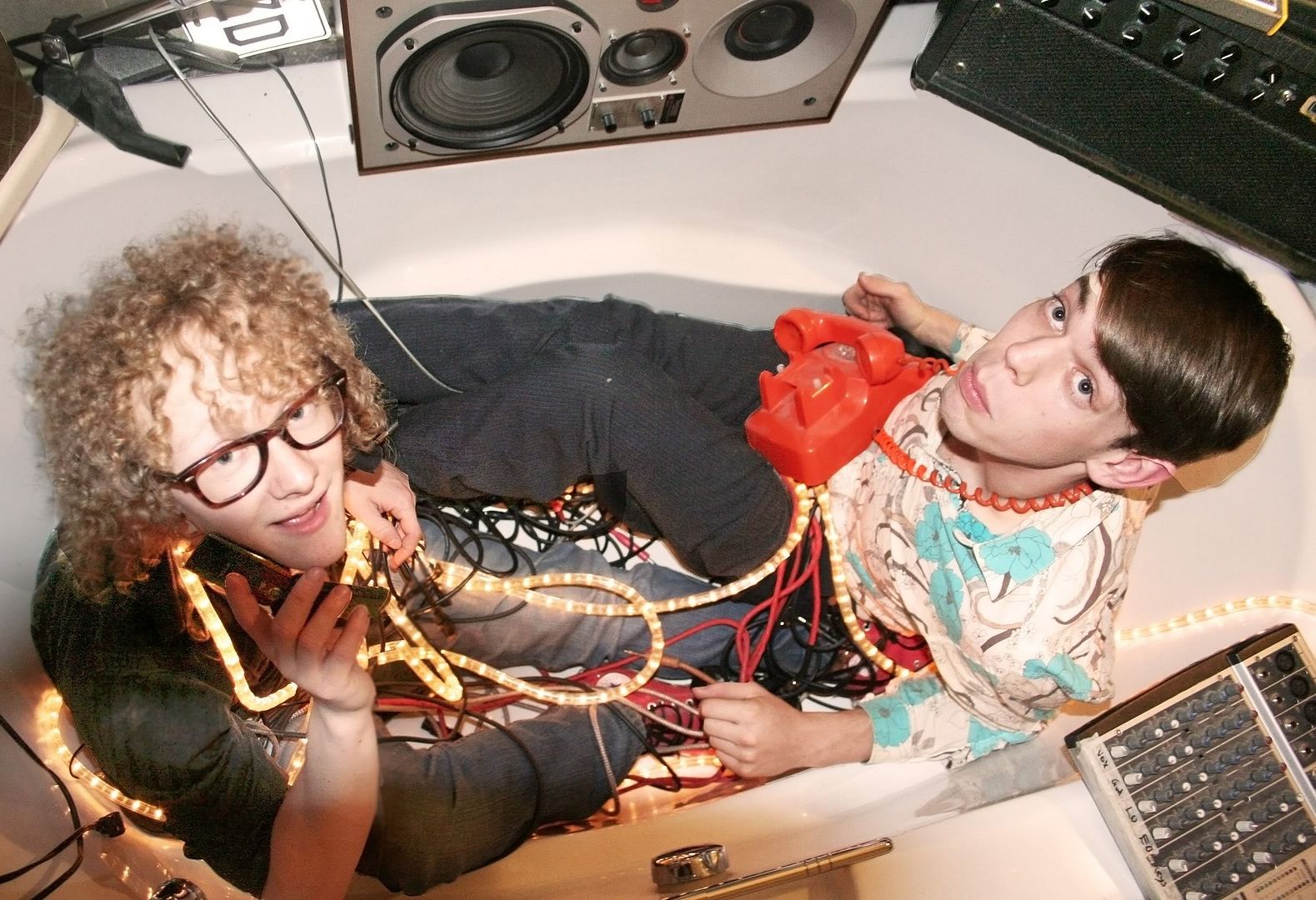 Hitting the road last week, Montréal's most charmingly nerdy loop-rock duo are taking their mind bending live show on the road, with plans to blanket the Maritimes, Newfoundland, and Southern Ontario in dropped jaws and melted

faces yet again. With their latest single (Long Drives//Empty Bottles) in tow and a slew of new songs, the pair are ready to cement their reputation for one of the most unique and impressive live shows out there.
Formed back in the heady days of mid-2009, childhood friends Chris Kavanagh (Drums, Keyboards) and Dorian Scheidt (Guitar, Voice, Pedal Board Tap Dance) set out to satisfy their craving for music that would keep their ADD ravaged attention spans locked in place. Using guitar, drums, voice, and an absurd array of effects and loopers, the pair craft seamless pieces spanning continents and decades of influence and inspiration. Dorian Scheidt's layered vocal melodies, bass lines and occasionally aggressive guitar riffs are all anchored by Chris Kavanagh's relentlessly inventive drum performances. Bouncing between moods, tones and entire genres with fluidity and grace, Cinéma L'amour are most assuredly "Something Else."


CINÉMA L'AMOUR :: SEEING IS DISBELIEVING
May 11 - Sackville, NB - Struts Gallery (All Ages)
May 14 - Moncton, NB - Plan B
May 16 - Halifax, NS - Gus' Pub
May 17 - Truro, NS - TBA
May 18 - Halifax, NS - House Show
May 19 - Sydney, NS - Governor's
May 22 - Stephenville, NL - Clancy's
May 23 - Corner Brook, NL - Whitehorse Lounge
May 24 - St. John's, NL - The Levee
May 25 - St. John's, NL - EARLY SHOW @ Rocket Room (All Ages)
May 25 - St. John's, NL - CBTG's
May 26 - St. John's, NL - The Ship
May 29 - Sydney, NS - Governor's
May 31 - Fredericton, NB - Gallery Connexion
June 1 - St. John, NB - EARLY SHOW @ Backstreet Records (All Ages)
June 1 - St. John, NB - The Somerset
June 2 - Montréal, QC - Jackie & Judy
June 5 - Peterborough, ON - The Spill
June 6 - Toronto, ON - Rancho Relaxo
June 7 - Kitchener/Waterloo, ON - TBA
June 8 - Hamilton, ON - Homegrown Hamilton
June 9 - Kingston, ON - TBA
Noisography will be at the Halifax show, so stay tuned for tones of photos and videos!!