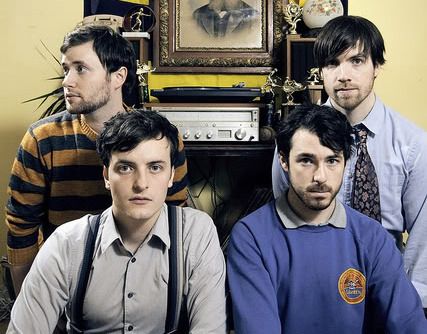 Plans to Play NXNE and Release Acoustic EP for June 2012
Fan favourites Paper Lions have a lot to celebrate this spring and summer! Their music video for "Travelling" just surpassed the 1 million views mark, with numbers continuing to grow by the thousands every day, and they are fresh off the heels of nominations for "Song of the Year" and "Fan's Choice Entertainer of the Year" at the 2012 East Coast Music Awards!

"We're getting views in Kuwait, we're getting views in Darfour. We're getting views in Germany, Australia, all over the place... When you start thinking about your music touching that amount of people on a regular basis, it kind of makes my jaw drop a little bit," says drummer David Cyrus MacDonald of the viral status of the "Travelling" video in an interview with CBC.

To further prove just how much love is in the air for Paper Lions these days, the band also reached their goal of $10,000 for recording via a crowdfunding website to help them record their forthcoming LP. Said LP is slated for a fall release and features the production work of Howard Redekopp. Redekopp's impressive portfolio includes producing releases from Tegan & Sarah, Said the Whale, Mother Mother, and more!

With such a strong start to 2012, Paper Lions are chugging forward on stellar momentum, preparing to to release an acoustic EP in June 2012, with supporting East Coast and Ontario dates, including North By Northeast and The Dragonboat Festival!
TOUR DATES
May 19 @ Hunter's Ale House, CHARLOTTETOWN, PEI (w/ Sandman Viper Command)
June 1 @ Seahorse Tavern, HALIFAX, NS
June 15 @ El Mocambo, TORONTO, ON (**North by Northeast Festival Showcase)
June 22 @ Dragonboat Festival, OTTAWA
June 29 @ Yonge and Dundas Square, TORONTO
July 1 @ Follyfest, GAGETOWN, NB
July 13 @ The Capital, FREDERICTON, NB
July 14 @ Peppers Pub, SAINT JOHN, NB
LINKS