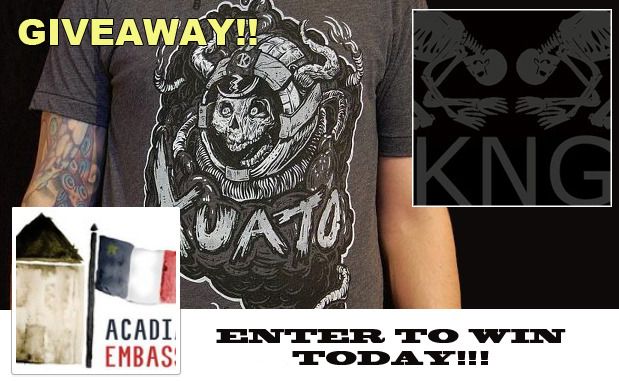 This June,
Kuato
will join forces with
VKNGS
and
The Wides
to play two shows -
Friday, June 15th in Halifax at The Khyber
Saturday, June 16 in Yarmouth at Knights of Columbus
- and to get you punped, they have a great contest running on facebook!
Who doesn't love free shit?
Noisography loves free shit... so we're passing along the word!
What to do you have to do?
Well my friends it is SUPER easy!
Head on over to Facebook, and share whichever of the following events corresponds to your location and invite some friends. Post on the event page when you have done so... and the guys will take care of it from there!
Here are the links:
Yarmouth -
https://www.facebook.com/events/120979731366289/
Halifax -
https://www.facebook.com/events/358203107575146/
What do you Win?
Well, they are giving away prize packages (one in Yarmouth, one in Halifax) consisting of :
- A brand new Kuato T-shirt
- A Brand old VKNGS T-shirt
- A copy of the VKNGS LP
- An EXTREMELY limited edition Union Of The Snake Flexi-disc (perhaps only 10 in existence)
SO ENTER NOW!!!
________________
https://www.facebook.com/AcadianEmbassy
http://www.kuatoband.com/
http://vkngs.bandcamp.com/