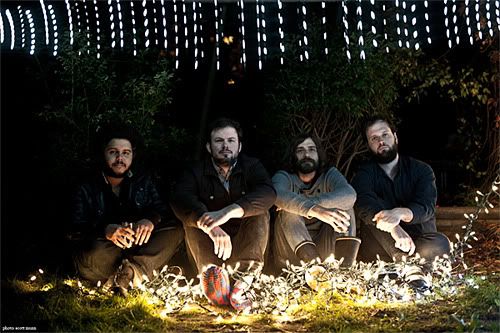 Wintersleep has spent the last decade establishing, developing, and re-inventing their sound to share with audiences around the world. After winning a Juno Award for 2007's Welcome To The Night Sky, touring extensively in support of 2010's New Inheritors and performing on The Late Show With David Letterman last year, the band settled down during the summer of 2011 to focus on their next endeavor. Co-produced by Dave Fridmann (MGMT, The Flaming Lips) and Tony Doogan (Belle & Sebastian, Mogwai), Wintersleep's new album, Hello Hum, signifies a new chapter in the band's history. (Dave Fridmann also mixed the album.) Inspired by the member's collective experiences, waking dreams, and musical experimentations, Hello Hum will be released June 12th via Capitol Records/EMI. The album's first single, In Came the Flood, is currently at rock radio and available for purchase on iTunes.
A collection of diverse tracks that showcase the band's versatility, Hello Hum contains a mix of bright, upbeat tunes and soft, sweet ballads. For a preview of the album, check out "Resuscitate," a lively cut driven by energetic bursts of guitar and dynamic percussion. Get the free legal download for the song "Resuscitate" HERE.
Characterized by resonant harmonies, rich layers of elaborate instrumentation and ear-catching melodies, Wintersleep produces music that has the ability to grab listeners with its pop charm and keep them captivated with its subtle complexities. The new record opens with "Hum," offering a swirling, slow-building intro to the series of energetic tracks that follow. The upbeat "In Came The Flood" showcases the depth of the band's sound, featuring melodic vocals atop a densely layered foundation of guitars, vocal harmonies, and driving percussion. From its first note, "Nothing Is Anything (Without You)" possesses the instant appeal of a pop tune, with a prominent guitar melody and toe-tapping rhythm. "Smoke" closes out the album on a softer note, allowing melodic vocals to shine over a subdued instrumental background and steady rolling drum beat. The record was written primarily by band members Paul Murphy, Tim D'Eon and Loel Campbell.
Wintersleep has seen successful tours in North America, the UK, Ireland and Europe, sharing stages with Pearl Jam, Broken Social Scene, Wolf Parade, The Hold Steady and Paul McCartney, among others and was praised by Flavorpill as having "catchy hooks, intricately crafted arrangements and intelligent lyrics." Wintersleep tour dates will be announced for Canada in the coming months. Visit www.wintersleep.com for more info.
Hum

In Came The Flood

Nothing Is Anything (Without You)

Resuscitate

Permanent Sigh

Saving Song

Rapture

Unzipper

Someone, Somewhere

Zones

Smoke