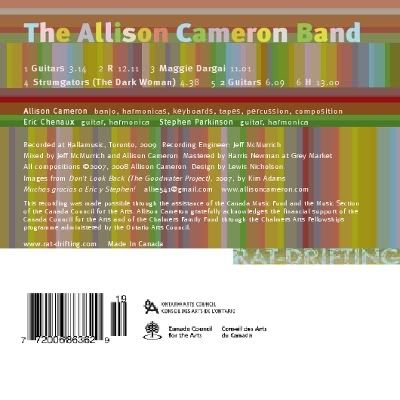 Allison Cameron (Toronto)
Sunday, April 22nd | 8pm
1313 Hollis St.
$5/$10
You may remember Allison Cameron's last visit to Halifax in 2008, where in beyond/beside/before/behind she collaborated with D'Arcy Gray and Norman Adams. Allison's improvised music is made on a collection of most unusual instruments, some not even instruments in a traditional sense, at all! She coaxes sound out of the banjo, and harmonicas, but also toy keyboards, found objects, cassette recorders and radios. Allison travels to Halifax on a tour assembled by The Circuit, a national organization (of which suddenlyLISTEN is a founding member) that helps creative musicians travel the country to perform and collaborate. In Halifax she will perform solo, and with Halifax improvisers to be announced!
Allison Cameron Biography
Allison Cameron is a composer of mostly chamber works that have been performed throughout Europe and North America; she is also active as an experimental performer.

Ms. Cameron studied with Louis Andriessen, Gilius van Bergeijk, Per Nørgård, Frederic Rzewski and Walter Zimmerman in Europe, and Rudolf Komorous, Michael Longton, David Mott and James Tenney in Canada.

Her works have been performed at numerous festivals, including Bang on a Can (New York), Emerging Voices (San Diego), Evenings of New Music (Bratislava), the Festival SuperMicMac (Montréal), the Newfoundland Sound Symposium, New Music across America, and the Rumori Dagen (Amsterdam) as well as several in Toronto.

Numerous ensembles have commissioned and/or performed her works, including the Bang on a Can All-Stars, Contact Ensemble, Continuum, Les Coucous Bénévoles, Ergo, Ensemble Kore, the Ives Ensemble, the Maarten Altena Ensemble, Opera Aperta, Orkest de Volharding, the Slagwerkgroep Den Haag, the Vancouver New Music Ensemble, and the Veni Ensemble. Pianists Eve Egoyan and John Tilbury, electric guitarist Wiek Hijmans and bass clarinetist Ronda Rindone have also played her music.

She co-founded the Drystone Orchestra in 1989 and founded the Arcana Ensemble in 1992, both dedicated to the performance of experimental music in Toronto. During 2000-2005, she was the artistic director of Arraymusic where she created the Scratch! festival for experimental music. Allison is also a member of the Association of Improvising Musicians of Toronto (AIMT) and since 2000 has been performing on small amplified objects in collaboration with Eric Chenaux, Rob Clutton, Ryan Driver, Stephen Parkinson, Gert Jan Prins, Mike Hansen, Mauro Savo, Ken Aldcroft, Joe Sorbara, Wilbert de Joode, and Doug Tielli among others.
For more information on suddenlyLISTEN, visit:
For more information on Allison Cameron, visit:
Upcoming suddenlyLISTEN Events:
Saturday, April 14th - Liona Boyz and The Bird Project (Arthur Bull and Norm Adams), 1313 Hollis St., $5/$10 - 8PM
Monday, May 14th - Arthur Bull/Bob Vespaziani joined by members of the sL Improv Workshop, 1313 Hollis St., $5/$10 - 8PM
Friday, May 25th - Vox Latrina, 2 concerts: one in a bathroom, and one at The Bus Stop Theatre with DB Boyko (Vancouver), voice; Christine Duncan (Toronto) voice; Norman Adams and Geordie Haley, The Bus Stop Theatre, $10/$20 - 8PM