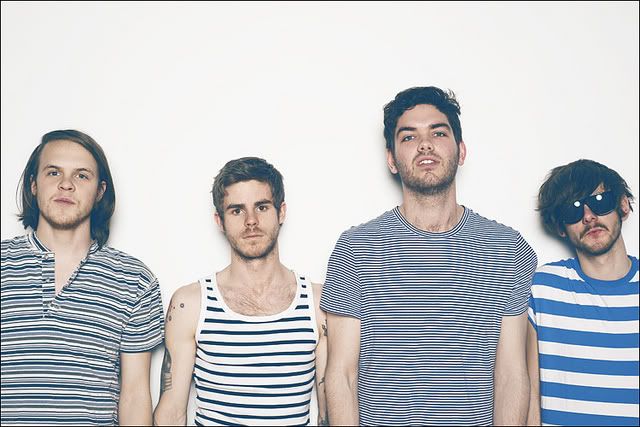 Live favourites Sandman Viper Command are pleased to announce a run of U.S. and Canadian dates with Chicago's Archie Powell & The Exports in May. The four-piece, who's youthful angst has burgeoned into meticulously messy and catchy rock n' roll, will be opening for White Denim on April 16 at The Horseshoe Tavern in Toronto and bringing along a string of new songs for debut.
Sandman Viper Command have returned to their Hamilton roots and holed themselves up again in Barn Window Recording Studio; the same studio where their debut release Everybody See This was conceived just a few short years ago. With fresh material laid down the group is anxious to share and will be doing so in the form of a new 7 inch, entitled Feel is Good, which will be released in May to coincide with the tour dates. More info to be announced soon surrounding the release. With one release show already set for their hometown of Hamilton, ON and another to be announced for Toronto shortly, there will be lots of celebrating to do. Since their debut, Sandman Viper Command have released new material in the form of the Rough Love 7 inch featuring tracks produced by Jon Drew (Fucked Up, Tokyo Police Club, The Arkells), available for download below.
From best friend beginnings in the suburbs of Toronto, Sandman Viper Command emerged with their debut release Everybody See This during a time when typical twenty-somethings are pulling all-nighters cramming for exams. Now, two years later, Rob Janson, Aaron Harvey, Dan Reardon, and Matt Meyer have won fans and critics alike over with their unique blend of rock n' roll and have carved a place for themselves in the burgeoning Canadian musical landscape with a performance resume boasting Canadian Music Week, Edgefest, North By Northeast and even a trip south of the border for CMJ Music Marathon in New York City.
TOUR DATES:
Apr. 27 @ Sub-T, CHICAGO, IL **
Apr. 28 @ South Park Tavern, DAYTON, OH **
Apr. 29 @ Birdy's, INDIANAPOLIS, IN **
Apr. 30 @ Bear's Place, BLOOMINGTON, IN **
May 1 @ Carabar, COLUMBUS, OH **
May 2 @ The Camel, RICHMOND, VA **
May 3 @ Maxwell's, HOBOKEN, NJ **
May 6 @ Pianos, NEW YORK, NY **
May 7 @ Firehouse 13, PROVIDENCE, RI **
May 8 @ Middle East Upstairs, CAMBRIDGE, MA **
May 9 @ The Flask, PORTLAND, ME **
May 10 @ Lucky Dog, WORCHESTER, MA **
May 11 @ DGBG, BUFFALO, NY **
May 13 @ Strega Cafe, ST. CATHARINES **
May 14 @ TBA, LONDON **
May 15 @ The Casbah, HAMILTON **
May 16 @ Cafe Deckuf, OTTAWA **
May 17 @ Le Divan Orange, MONTREAL **
May 18 @ Michael's, HALIFAX **
May 19 @ Plan B, MONCTON **
May 20 @ Fallsbrook Centre, KNOWLESVILLE, NB **
May 22 @ The Spill, PETERBOROUGH **
Mar. 23 @ Van Gogh's Ear, GUELPH **
May 24 @ The Mansion, KINGSTON **
May 27 @ Mulligans, GRAND RAPIDS, MI **
(**= with Archie Powell & the Exports)

LINKS