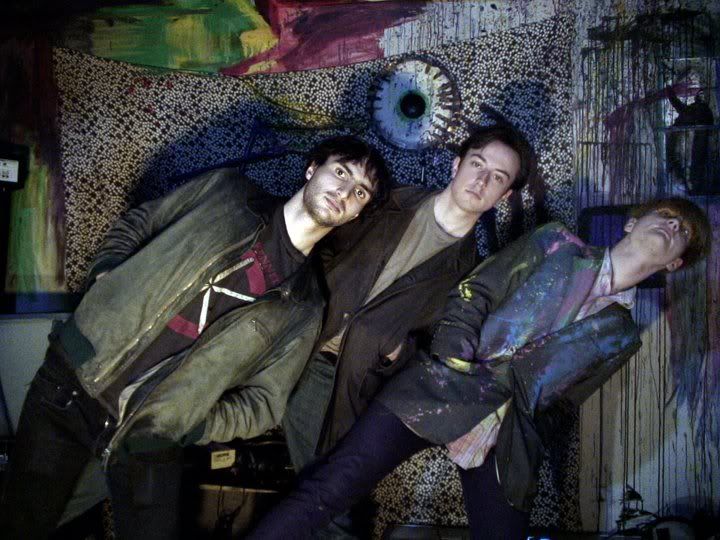 Earth to Friend
is the latest and final release from Montreal experimental psych-pop favorites
Pop Winds
. After three years, a nationwide tour and countless shows, the group recorded one final album before parting ways in the summer of 2011 to pursue highly anticipated solo projects (
Majical Cloudz
,
Flow Child
).
Recorded over a year with producer Matthew Kolaidis, and finalized in Spring 2011, the album is both the culmination of the prolific group's collective experience as musicians playing, writing and growing together, and a final crystallization of their varied and eclectic influences. Building on 2010's cavernous synth-pop experiment Turquoise, writing and recording sessions for Earth to Friend were spent "stitching together a patchwork of multiple jams in which every piece of music came from improvisation at some level," reveals Pop Winds' Devon Welsh. Each song was "revised so many times that it often became completely unrecognizable from its original form", a process which has resulted in the band's richest and most focused collection of songs to date.

Born of this "editing, revision and cannibalization" is a driving pop aesthetic that brings new discipline to the group's distinctively free and multilayered sound, while allowing Welsh and Jukka – most notably on tracks such as Easier and Sunlight - to showcase their considerable vocal abilities. But beneath the album's joyful surface hides a latent sadness. Having spent much of the past three years making music together, "it became implicitly felt that this was the last thing [the group] would do together as Pop Winds…" and a mournfulness stemming from the breaking of its authors' collective "psychic bond" underpins large tracts of Earth to Friend. The result is an all the more genuine and fitting testament to the group's work together.
With further nods to both Krautrock and Post-Punk, this album sees Pop Winds assimilate their musical influences into the fully realized stylistic hybrid promised since the band's inception. While existing fans will revel in the strides made on
Earth to Friend
and cherish the album as a parting gift, the significant bounds from its predecessor are also sure to turn a whole new set of fans on to the group's musical legacy.
https://www.facebook.com/pages/The-Pop-Winds/101530325681