May 31 - June 3 | Halifax, NS
Halifax's Festival of Damaged Music and Art
After a quiet year off, DIVORCE is pleased to finally announce a fifth installment of The OBEY Convention, Halifax's springtime festival of damaged music and art. Some of the acts scheduled to perform include electro-pop futurist Gary War (New York - Sacred Bones/Spectral Spools), acoustic guitar virtuoso Bill Orcutt (San Francisco - Editions Mego, Palilalia), renowned pop-noise-junk whiz-kid Eric Copeland of Black Dice (New York - Paw Tracks, Post Present Medium), hissing and snarling one-man band phenom Bloodshot Bill (Montreal - Norton Records), and punk hustlers The Pink Noise (Montreal - Sacred Bones, Pleasance Records).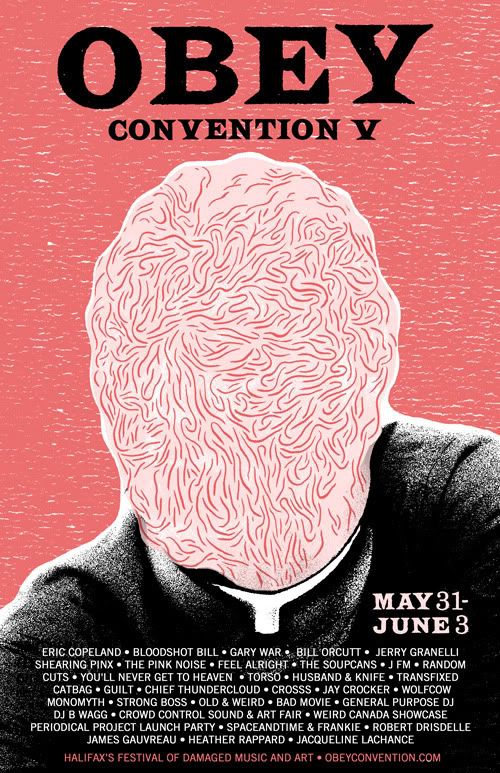 DIVORCE will present a full roster of its own current and upcoming artists including Jerry Granelli, Shearing Pinx (Vancouver), Torso, Husband & Knife, J fm (Toronto), and You'll Never Get to Heaven (London, ON). Also, look forward to light and moving image shows by Robert Drisdelle and Jacquline Lachance, an installation by James Gauvreau, the Crowd Control Sound & Art Fair, an experimental video mixtape curated by Heather Rappard, performance art by space&time and FRANKIE, a Weird Canada showcase, a Periodical Project launch party, plenty of free happenings, and lots more.

All events will take place at Halifax's premiere artist run spaces—The Khyber Centre for the Arts, The Bus Stop Theatre, 1313, and Lost & Found. As usual, OBEY will bring in deluxe sound and light equipment to maximize fidelity and audience pleasure. These venues are small and often sell out quickly. A very limited number of weekend passes are on sale now. Advance tickets for select events MAY be available starting late April.