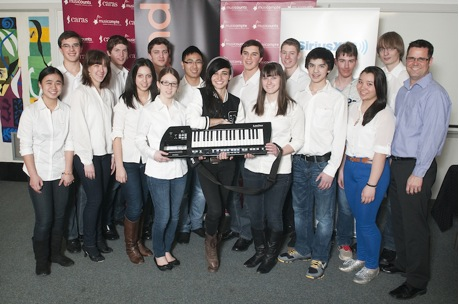 MusiCounts, Roland Canada, SiriusXM Canada and very special guest, JUNO Award winning artist, Lights, visited Alpha Secondary School in Burnaby, BC to celebrate the school being awarded the first ever MusiCounts Roland Jam Pak, presented by SiriusXM Canada.

The $12,000 Roland Jam Pak included a drum kit, digital piano, synthesizer, amps and a number of accessories to add to the school's instrument collection and music program. The celebration featured Alpha Secondary Schools' jazz band and a two song performance by Lights who also spoke to the students about the importance of music education in schools.
"I'm excited to be able to celebrate a prize like this being awarded to Alpha Secondary School. It's important for students to have the opportunity to learn how to create music and experience the release it provides. The equipment provided by the Roland Jam Pak gives them that opportunity," said Lights.
Alpha Secondary was built in the 1950s and is located in Burnaby, BC. In 2007, there were roughly 50 students in the music program, which has quadrupled in 5 years to approximately 25% of the school's 850 students registered in music courses. The Parent Advisory Committee (PAC) has been very supportive of the music program, and the staff and parents believe in offering students opportunities in school that they would not normally get elsewhere. Currently they offer Junior Band, Intermediate Band, Senior Band, Jazz Band, Guitar, Concert Choir and Music Technology/Composition.
"Receiving the Roland Jam Pak has allowed my students to be more musically-creative. The students at Alpha are inspired and have a renewed interest in creating, improvising, and composing music. They are connecting with each other better not only as musicians, but as human beings as well. Music enriches students' lives, spiritually, emotionally and physically, and I can attest to the importance of providing a quality music education program to ALL students. The Roland Jam Pak will ensure that every music student at Alpha will be given an equal opportunity to practice, rehearse, and perform music for many years to come," said Paul Dudley, Department Head, Visual and Performing Arts, Alpha Secondary.

"Personally, I am thrilled to see the buzz firsthand in the music department, and cannot properly express in words how thankful I am to MusiCounts, Roland Canada, and SiriusXM for providing us with not only the equipment, but the opportunity. On behalf of my students, I sincerely thank you."
The Roland Jam Pak will be used regularly by students to assist them in the technology/composition course.

With these instruments, students will be able to fully utilize their composition processes and will be able to expand the use of the Roland Jam Pak through various performances and school concerts. This incredible prize from MusiCounts, Roland, and SiriusXM Canada allow families who typically could not afford an instrument for their child to now have a golden opportunity to be involved in a music program.
Doug McGarry, Executive Education Manager at Roland Canada says "Our mission is to inspire the enjoyment of creativity through music. We also believe that music education is an important part of a child's overall learning experience. We hope that these instruments will assist these students in reaching a new level of musical expression."
The MusiCounts Roland Jam Pak contest, presented by SiriusXM Canada, was open to all public Jr. High and Secondary Schools within Canada. All equipment and delivery of the Jam Pak to the winning school is provided by Roland Canada, with MusiCounts overseeing the selection process and SiriusXM Canada providing the financial support to administer the program.
"We are thrilled to be a part of this celebration with Lights, MusiCounts and Roland Canada and wish Alpha Secondary continued success with their music program," said Andreanne Sasseville,

Director of

Industry Relations and Canadian Content Development for SiriusXM Canada

. "We're proud to support the MusiCounts Roland Jam Pak and contribute to music education in schools to help shape our country's music talent and cultural dynamic."
About Lights
When electro-rock sensation Lights first hit the music scene in 2008, she was just a songwriter with a synth and a dream. Her name may have been pluralized but Lights Poxleitner was a one-woman show who played and programmed her own instruments and sang her own lyrics.
After her 2008 self-titled debut EP (precocious enough to earn her a JUNO Award for New Artist of the Year) and gold-selling full-length follow-up The Listening, Lights was ready to open herself up to collaborations on 2011's unexpectedly experimental album, Siberia. By choosing such leftfield collaborators as live electronic outfit Holy Fuck and rising rapper Shad, she also opened up her sound.
Siberia's beats skitter and thwack, the retro electronics fire like decomposing lasers and the analog synths dirty up her trademark pretty melodies, propelling Lights' emotion-soaked but still-cute croon into her sprawling, imperfect new sound.
Call it anti-electro, dream-step or perhaps even grit-pop. Whatevs. Just rest assured that it's the same bright Lights; she's just built herself a bigger city.