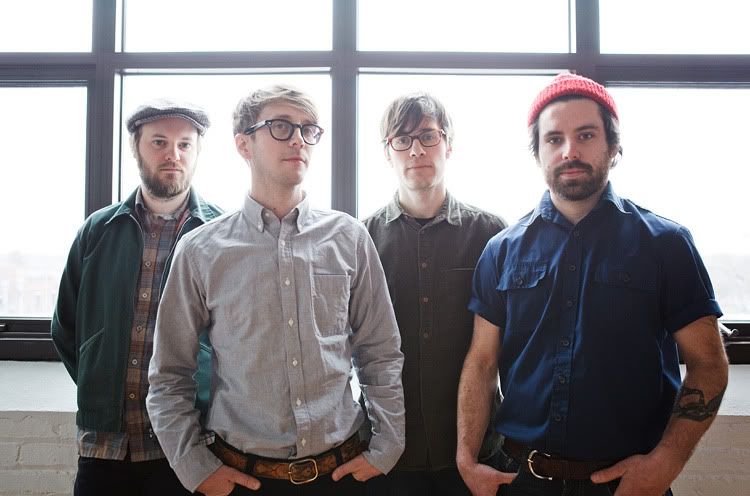 Fresh off of their recent Juno award nomination, Toronto's Cuff The Duke are announcing a string of new tour dates and the release of a free six-track covers EP. In Our Time includes covers of Guided By Voices, John Lennon, Sonic Youth, Bill Fay, Smog and Dum Dum Girls and is available as a free download here from NoiseTrade. There is also a limited edition CD version of the EP available for purchase here. The band's tour starts today in Fredericton (full list of dates below).
It has been an exciting start to 2012 for Cuff The Duke, including a Juno award nomination, "Adult Alternative Album of the Year," for Morning Comes which was released through their new label home Paper Bag Records. Watch the band's new music video for "Count on Me" by clicking the still below. "Count On Me" is a song that testifies to loyalty and friendship amidst the weight of loss and loneliness. The video follows the boys on an imaginative, daydream adventure.
Morning Comes is a concept record -- ten solid tracks that flow like a film or great novel, filled to the brim with emotional highs and lows, plot twists, and universal truths. The album tells a story of change, confronting loss and - as track "Standing on the Edge" calls it, having the courage to look across an unknown future and onto the other side. It's the first part of a two-album concept, the second of which is currently being completed in the studio, set to release this Fall. While Morning Comes is a record about the lows, its follow-up will explore life after its loss, picking up where the album's closing track, "Letting Go" leaves off. "I always try to incorporate a sense of hope."
Cuff The Duke Spring Tour Dates
April 12 - Fredericton, NB @ The Capital Complex
April 13 - Charlottetown, PEI @ Hunter's Ale House
April 14 - Halifax, NS @ The Seahorse Tavern
April 26 - Hamilton, ON @ Casbah
April 27 - London, ON @ APK Live
April 28 - Peterborough, ON @ Montreal House
May 4&5 - Sudbury, ON @ The Townehouse
May 12 - Brooklyn, NY - The Rock Shop (w/ Kelley Deal)
May 14 - Atlanta, GA - Smith's Olde Bar
May 15 - Durham, NC - The Garage
May 17 - Raleigh, NC - The Pour House Music Hall
May 23 - Chicago, IL - Schuba's (w/ PS I Love You)
July 21-23 - London, ON - Home County Music & Arts Festival
August 17-19 - Salmon Arm, BC - Salmon Art Roots & Blues Festival