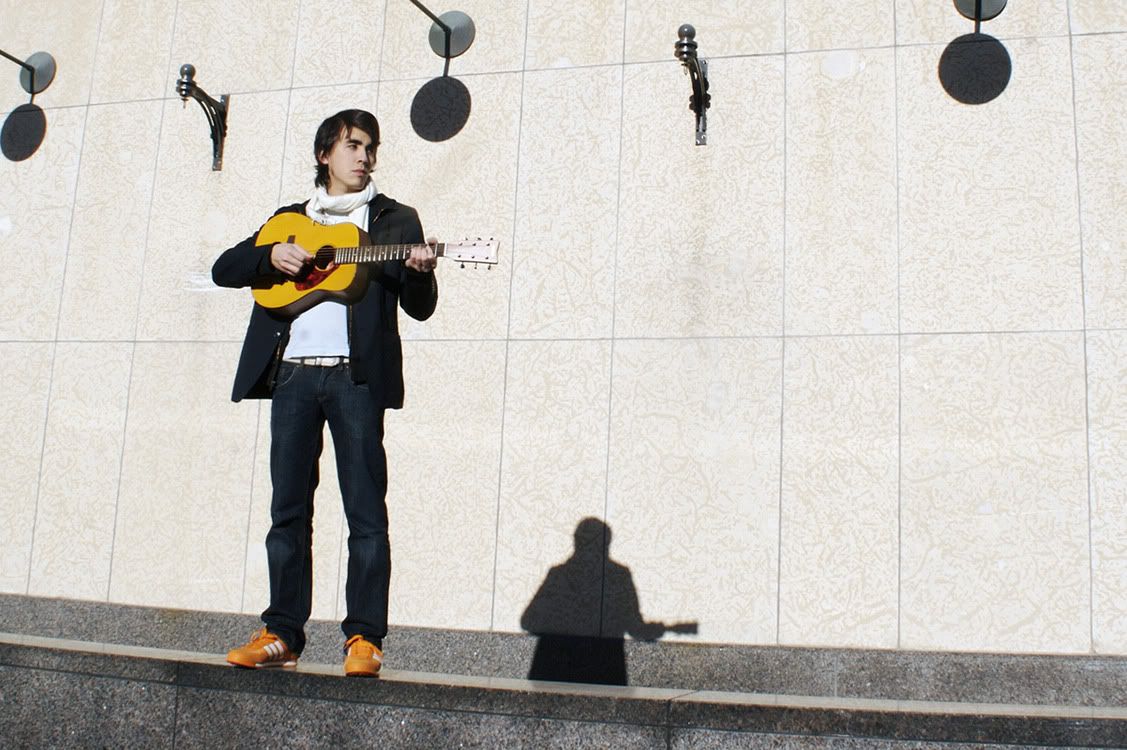 Think "tongue-in-cheek torch songs" and you have one place of departure with this Winnipeg based singer songwriter. JP Hoe writes tirelessly in all styles, charming audiences with his sharp lyrics, a smooth voice and a casual demeanor. Humour, simple phrases, and bold ideas are all part of his trade. On May 15th, 2012 JP will release his fifth effort, Mannequin, featuring 11 new original songs.

He will celebrate with a hometown show on May 10th at the West End Cultural Centre, followed by a Canadian tour (dates listed below).
Mannequin is a beautiful collection of songs with a dark and melancholic edge weaving it's way in and out of the tracks. 'Tight', 'focused' and 'confident', are words JP uses to describe the album. From the catchy first track Bingo Palace to the co-written song Conversation with Luke Doucet, the album explores the different sizes and shapes of adult alternative pop, similar to a window dresser experimenting with his 'mannequins' in the storefront.
JP is anything but a cookie cutter artist, and has remained fiercely independent throughout his career. Whether its routing tours around his favourite BBQ shacks in Mississippi, or returning home every December to throw the city his themed concert in the form of the JP Hoe Hoe Hoe Holiday Show, the three-time nominated Western Canadian Music Awards artist is pursuing his vision. He'll continue to connect with audiences young and old, near and far, sharing the stories behind his songs, refusing to rest on his laurels and thankful he's found a place amongst so much noise.
He's toured around the world; at times providing support for seasoned veterans such as Jann Arden in concert halls and arenas, and other times playing in the hidden roadhouses that dot the southern USA. This troubadour knows you're only as good as your last show.
"Highlight of the evening, however, went to our next performer – acoustic singer/songwriter JP Hoe from Winnipeg, he recently made waves playing the One Movement Showcase in Perth. At times Sufjan and Andrew Bird-esque, at others reminiscent of David Gray and John Mayer, JP Hoe's talent is quite outstanding. There is true power in his voice and words, in an instance where he simply makes it look easy. Make sure you check this guy out when you can." - The Australian Review
Let's get out and celebrate the new release from one of Canada's true hidden gems!
2. I Only Did It For Love
8. Nothing's Gonna Harm You
Upcoming Canadian Tour Dates:
May 10 – Winnipeg, MB – West End Cultural Centre (CD Release Show)
May 15 – Regina, SK – O'Hanlons Pub
May 16 – Lethbridge, AB – The Slice
May 18 – Edmonton, AB – Haven Social Club
May 24 – Vancouver, BC – The Railway Club
May 25 – Victoria, BC – Ocean Island
May 26 – Kelowna, BC – The Streaming Café
Jun 4 – Thunder Bay, ON – The Apollo
Jun 6 – Toronto, ON – Cameron House
Jun 7 – Wakefield, QC – The Blacksheep Inn
Jun 10 – Halifax, NS – The Carleton
Jun 11 – Charlottetown, PEI – Baba's
June 13 – Peterborough, ON – The Montreal House