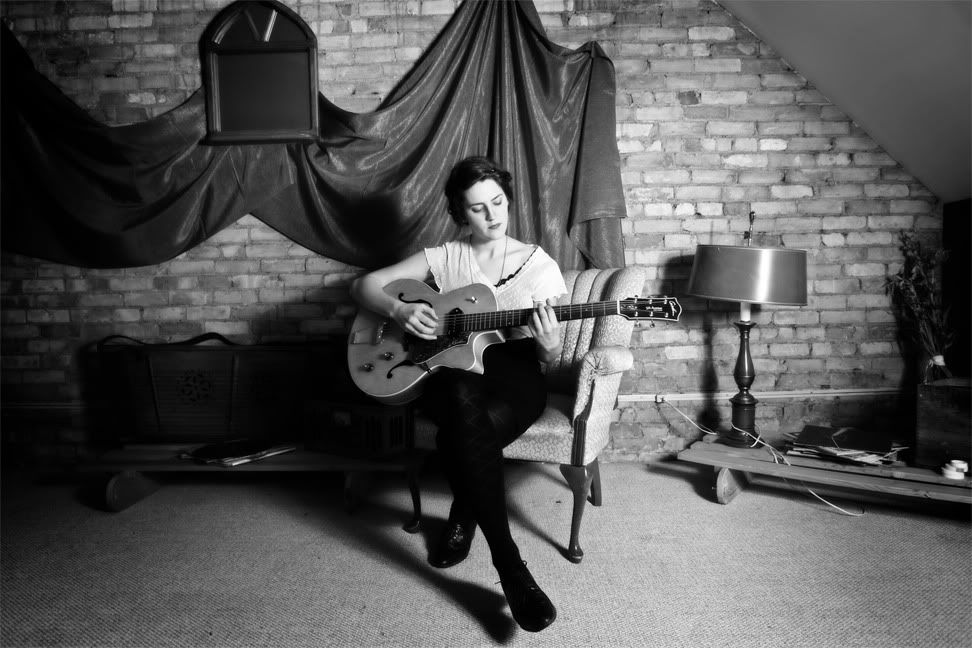 Winnipeg's Jenny Berkel releases here debut album Here on a Wire on Tuesday, May 01. She also is touring throughout Canada in support of the album. Dates are listed below.
Born in the midst of Ontario's disappearing forests and spreading cities, Jenny Berkel has always had a deep awareness of changing landscapes and the tenuous thread by which we live and love. Her pursuit of formal education against this backdrop was interrupted to appease her appetite for the bracing instruction of travel, pen and paperback. Then, seeking the uncluttered desktop of the Prairies, Berkel packed her suitcases and guitar into a Greyhound two cold winters ago and landed in Winnipeg.
Fold in part wanderlust, love adrift and a grievous family loss A year later, Berkel had two handfuls of new material, which came together to form her debut full length collection, Here on a Wire, poised for national digital release on May 1st. Produced by Matt Peters (Royal Canoe and The Waking Eyes), this debut is a collection of eleven stark and haunting songs that draw their substance from a blend of personal experience and collective history. Alternately sad and hopeful, the songs are awash with quiet images of ghosts, dreams, lost love, and cityscape.
Centering around the lilt of Berkel's emotive lyrics, Here on a Wire features a brooding and delicate arrangement of cello, upright bass, French horn, slide guitar, organ, and percussion. With Jenny's deep and smoky voice winding its way through these rich layers, the album stands as an arresting collection of "haunt folk."
Jenny has been touring extensively since relocating to Winnipeg, having participated in the Home Routes touring circuit in 2011 and most recently, supporting Amelia Curran for several Ontario concerts. She has played OCFF and the Folk Alliance conference and was invited to be a part of the 2012 line-up at the In The Dead of Winter Festival in Halifax.

Upcoming tour dates:


May 5th – London, ON – The Brass*
May 6th –
Guelph, ON
– The Cornerstone*
May 8th –
Hamilton, ON
– Homegrown*
May 9th –
Windsor, ON
– Phog Lounge*
May 10th –
Toronto, ON
– OCAD Student Gallery*
May 12th –
St. Catharines, ON
- The Mansion*
May 14th –
Montreal, QC
– Casa Del Popolo*
May 16th - Woodstock, NB - Fusion Cafe
May 21st - Antigonish, NS - House show
May 25th -
Fredericton, NB
- Charlotte Street Arts Centre
May 24th –
Halifax, NS
– The Company House
May 26th - Montreal, QC - Le Depanneur
May 28th - Toronto, ON - The Gladstone Hotel
* w/ Demetra Penner