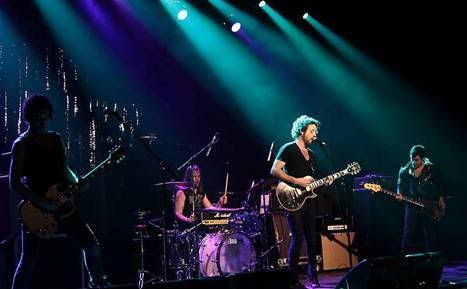 Hot off an action-packed Ontario tour, including a string of high profile shows at Canadian Music Week in Toronto, Halifax rockers Gloryhound are set to take the hometown stage at The Seahorse on Friday, April 6th, along with The Stogies and The Ascot Royals. Doors open at 10pm. Cover is $10 at the door.
Gloryhound
, comprised of Evan Meisner (lead vocal/rhythm guitar), David Casey (lead guitar/bg vocal), Shaun Hanlon (drums) and Jeremy MacPherson (bass), have built a solid fan base with their high-powered live shows, touring relentlessly over the past couple of years throughout Maritimes, Quebec and Ontario. Along with their own headline shows, Gloryhound have opened shows for Thin Lizzy, Sam Roberts, Big Wreck, Hollerado, Drive By Truckers, CJ Ramone (of the Ramones) and kicked off 2012 as opener for Deep Purple on their tour through Atlantic Canada. JUNO weekend saw Gloryhound perform at Ottawa's premiere concert club – Zaphod Beeblebrox and at the highly coveted Gibson Juno Party.
Elecric Dusk
, the title track from Gloryhound's latest recording has recently been licensed for the upcoming feature film "Love Me". Their Electric Dusk EP (produced by Laurence Currie) is nominated for Rock Recording of the Year at the upcoming East Coast Music Awards, while the title track and current single ("Electric Dusk") is #16 on the national Mediabase Active Rock charts, #25 on the BDS Neilson Billboard Canadian Rock chart.
Don't miss Gloryhound with The Stogies and The Ascot Royals on Friday, April 6 at The Seahorse, Argyle St., Halifax. Doors open 10pm. Cover is $10 at the door.