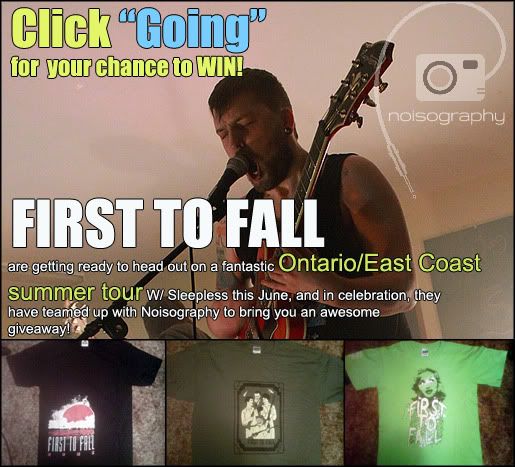 First to Fall
are getting ready to head out on a fantastic Ontario/East Coast summer tour W/ Sleepless this June, and in celebration, they have teamed up with Noisography to bring you an awesome giveaway!
Join our facebook event
and click "going" and enter yourself to win!
1st winner
= Free entrance to a show of your liking + a First to Fall t-shirt
2nd winner
= A copy of First to Fall's
Home EP
Giveaway is open till May 30th 2012 and winners will be be posted &a contacted that evening.
Winners are drawn completely at random and where this tour extends well outside Nova Scotia, we encourage those from outside the province to enter!!
"Maybe"s do not get you entered in the contest! So make sue to click "Going"
First To Fall / Sleepless The Groggy Whaler Tour 2012
**TBA's will be replaced shortly! Stay tuned for all the info
June 15th- Alcona Beach Club Alcona, ON, Canada
June 16th- TBA ontario, Canada
June 17th- Cafe Dekcuf, Ottawa, ON, Canada
June 19th- L'Absynthe, Montreal, QC, Canada
June 20th- TBA - Victoriaville , QC, Canada
June 21st- Sergent Peppers Thetford Mines, QC, Canada
June 22nd- TBA - Quebec City, QC, Canada
June 23rd- F Studio, Fredericton, NB, Canada
June 24th- TBA - NB, Canada
June 25th- Baba's Lounge Charlottetown, PEI, Canada
June 26th- TBA - NS, Canada
June 27th- TBA - NS, Canada
June 28th- Bridgewater, NS
June 29th- Trenton Youth Centre, Trenton, NS