On February 22nd,
Greber
returned to Halifax with a midweek metal fest featuring
Soviet Crowbeak
and
Burnt Church
. With only three bands, it was a short night, which was fine with me. Catching five or more bands on a weekend is a blast, but on a weekday it can be kind of a chore - what with the alarm clock and the day job looming on the horizon – and I was glad to be able to enjoy some heavy music, drink a couple of beers and still be home in time for the Colbert Report.
Soviet Crowbeak
were the first to play. They are an instrumental act whose music is fast, heavy and bombastic. The guitar-work reminded me a lot of old Korn riffs only played twice as fast. They had a few good riffs but played them at such a breakneck pace that any potential for groove was squandered. A lot of metal doesn't aim for a groove, but this reviewer requires at least a detour or two. Everything in Soviet Crowbeak's arsenal – from the mile a minute, crash heavy drumming to the sludgy, robotic bass riffs- seemed designed to deny any swing.
Burnt Church
played the night's second set and, as always, put on a fun show. They play the kind of metal that is so fast and crazy you'll probably go mad just by listening to it. The vocals sound like a mix between a lawnmower, a Doberman pinscher and a dying man's curses. The drums are frantic bursts of machine gun fire. Burnt Church pummels the audience with these insane ingredients but then peppers in sections made of pure, heavy, foot-stomping groove. Hallelujah!
Greber
's music answers the question "how heavy can a two-piece without guitar really be?" The answer is very, very heavy.
With only a bassist and a drummer, Greber have no choice but to rely on groove, so they were right up my alley. Greber keep it interesting with lots of different beats and riff changes in each song. The riffs were pounding and sludgy, the bassist had a bunch of pedals that made his bass sound like a bass + five guitars, and the percussion was executed with precision and power. Every song had lots to latch onto; catchy, heavy riffs, awesome lion-roar vocals and powerhouse drumming. Despite being a two-piece metal band, Greber had an almost orchestral feel. I recommend them for anyone who likes a band with more in mind than making you bang your head and drink beer, and if that's all you're after I still recommend them.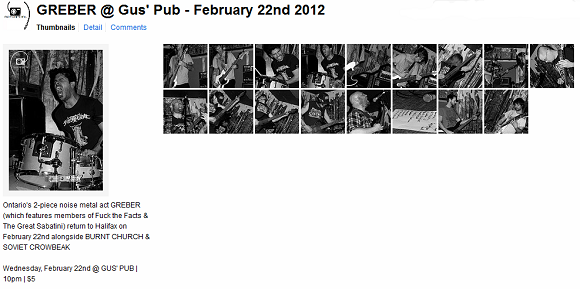 ___________________
Words: Isaac Thompson
Photos/Video: Tiffany Naugler