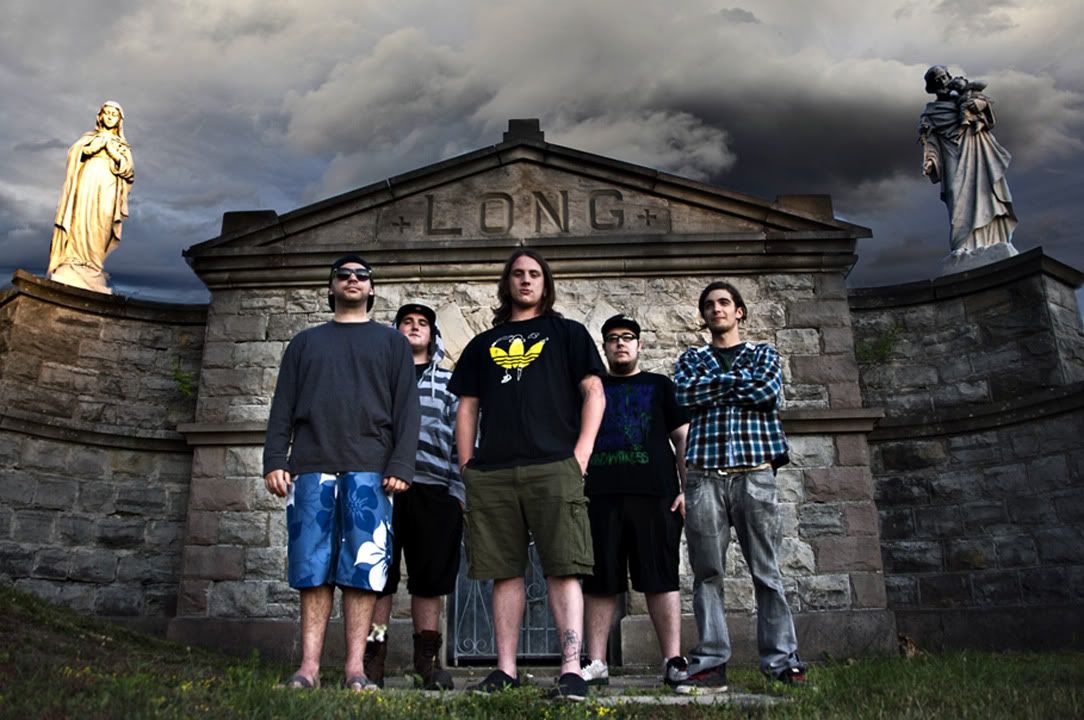 THE TIDE WILL TAKE US whom is set to unleash their full length album "Putrid Dynasty" on Tuesday, May 1st, 2012 produced by Jon Howard of Threat Signal and Bjorn "Speed" Strid of Soilwork have revealed the album artwork and track listing for the upcoming release.
The album is the follow up to their self-titled 5-song debut EP, produced by Kent Sheehey (The Vegas Wake Up) and is a sonic fury that is immediately audible as it rips, pounds and rages through your ears. Song names like "Choke On Your Regret", "Putrid Dynasty", "Concubine Queen" and "Metastasize & Consume" demonstrate TTWTU's reach to the deepest, darkest abscesses of the listener's brain before even a single note sounds and conjures grotesque imagery.
About: Rising from the smoky ashes of their former bands Disthrone, Through Rose-Tinted Glasses and Prophecy of Plagues, THE TIDE WILL TAKE US is a groove metal band named for the murky, volatile Georgian Bay waters the Wasaga Beach, ON five-piece call home. Formed by guitarists Mike Longeri and Jesse Carter via an impromptu debauchery post-concert jam, the duo soon had drummer Dave Hilder, bassist Taylor Riley and vocalist Matt Cola on board to plaster on their signature layers of grit and sludge to the melodic tunes they were churning out.
In just over one year together as a band, The Tide Will Take Us have already earned a reputation for their out of control, animalistic, musically tight and uncompromising live sets and have just completed recording their full-length debut album "Putrid Dynasty" produced by Jon Howard (Threat Signal) and Bjorin "Speed" Strid (Soilwork) to follow up their self-titled five-song debut EP, produced by Kent Sheehey (The Vegas Wake Up).
Album Artwork by Krishawnia Grey
1. Concubine Queen
2. Choke On Your Regret
3. Putrid Dynasty
4. Perdition
5. Metastasize and Consume
6.Mouth Breaker
7. King of Damnation
8. Sinister Revelation
9. The Dead Call