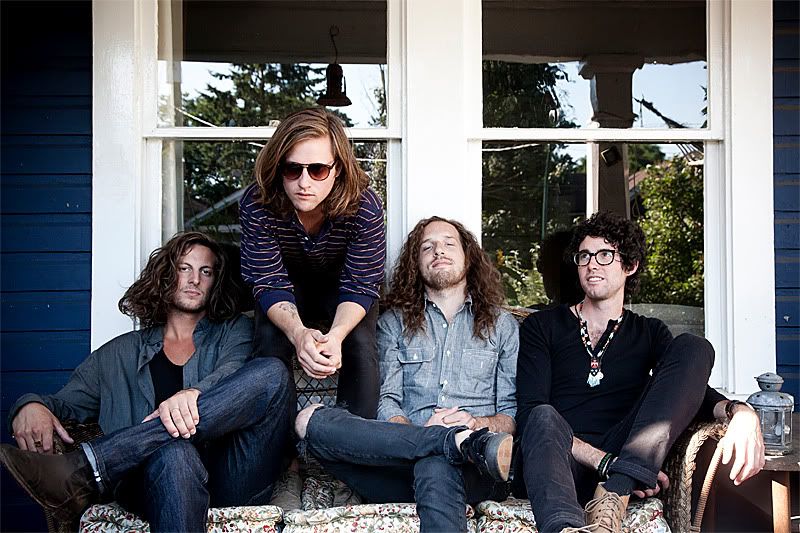 Vancouver four-piece Yukon Blonde are returning to Halifax in support of their sophomore LP Tiger Talk, due out March 20 (Dine Alone Records) with Library Voices at Reflections on Saturday, April 7.

Offering up their first single "Stairway" for download, the band are preparing for worldwide tour dates by playing an intimate and very special show during CBC Vancouver's Toque Sessions on February 3rd at 5:30 PM.

Over the past two years, Yukon Blonde has earned no shortage of acclaim for its hook-heavy brand of pop rock. From having their debut album Polaris Music Prize listed to being talked about on the major US Network television show "How I Met Your Mother," Yukon Blonde has been turning heads everywhere they go. But despite their love of vintage rock 'n' roll, the members aren't the kind of guys who cling to the past.

After an intensive three-week writing retreat to a cottage in BC's Comox Valley that saw the band pulling 12-hour days, the band hunkered down at Burnaby, BC's Hive Creative Labs studio with Colin Stewart (Black Mountain, Ladyhawk). Eschewing the analog tape of their past work in favour of a crisp digital approach with synthesizer flourishes, the band agonized over tones and meticulously crafted 15 new songs.
Four of these tunes sounded out of place, and bore a distinct similarity to the debut. Yukon Blonde opted to release these four cuts separately as the 2011 EP Fire//Water. With the fan base's appetite sufficiently whetted, the group held back the remaining tracks for the full-length.

Yukon Blonde has already proved that they are willing to go wherever their restless artistic muse takes them. Along with a 62-show North American tour behind their Fire//Water EP the band also played such as Ottawa Blues Fest, Mariposa Folk Festival, and Milwaukee Summerfest. They toured with Plants & Animals and The Fling, and shared the stage with the likes of Edward Sharpe & The Magnetic Zeroes, Dawes, Josh Ritter, Elliott Brood and more.

#7 - exclaim!'s "20 Most Anticipated Albums of 2012"

"...this will most likely be one of the strongest releases of early 2012." - Vancouver Sun (2012 Vancouver Music Buzz List)

"If Yukon Blonde had been born in the in Laurel Canyon during the sun-washed '70's, world domination would be a guaranteed thing. ..get ready to discover Your new favourite Pacific Northwest obsession." Alternative Press
Tickets are $16.99 in advance and $19.99 day of show (including tax and service charge) and go on sale this Friday, Jan. 27 at 10 a.m., exclusively at
www.sonicconcerts.com. This show is restricted to ages 19+ with two pieces of VALID ID as per venue policy. Doors open at 9 p.m.
For more information on Yukon Blonde, visit: http://yukonblonde.com/

For more information on Library Voices, visit: http://libraryvoices.ca/