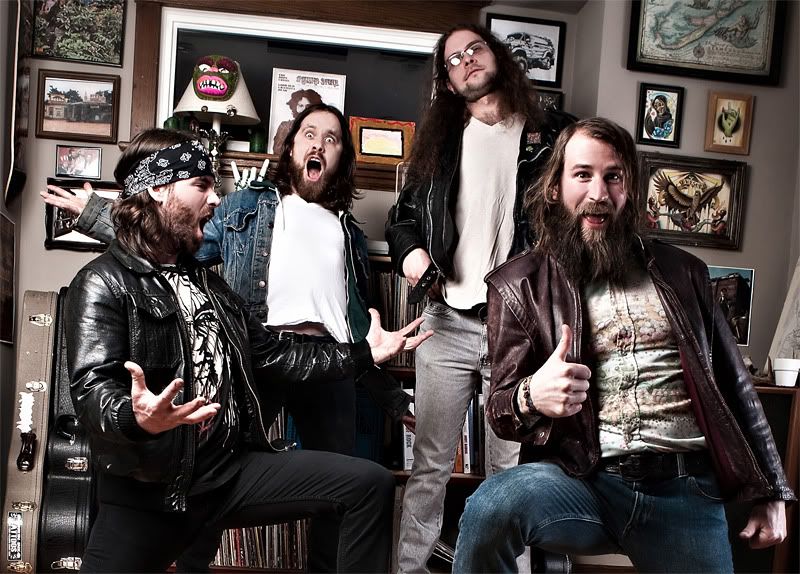 After a sold out Maritime tour with The Sheepdogs late last year, Monster Truck will return for a series of shows in New Brunswick and Nova Scotia, May 30-June 2. Special guest is The Motorleague.

The Hamilton-based band kicked off 2012 touring with Deep Purple in support of The Brown EP, Monster Truck and recently won Rock Recording of the Year and Male Vocalist of the Year at the Hamilton Music Awards.

Formed in 2009 by Jon Harvey (Bass & Lead vocals), Jeremy Widerman (Guitar & Vocals), Brandon Bliss (Organ & Vocals) and Steve Kiely (Drums & Vocals), Monster Truck carries more than a few direct links to the machines with which they share their moniker, not the least of which is the way they've steadily steamrolled across the country leaving little in their wake. The band has quickly became known as a "must-see" live.

Monster Truck has released two EPs, including their debut self-titled which was recorded by Gus Van Go & Werner F (The Stills, Preistess, Hollerado) and The Brown EP with Eric Ratz (Billy Talent, Cancer Bats, Three Days Grace). Currently, their single "Seven Seas Blues" is climbing the alternative and active rock charts across Canada.
Dates Include:
May 30 Saint John Pepper's Pub
May 31 Fredericton The Capital Complex
June 1 Moncton The Manhattan
June 2 Halifax Michael's Bar and Grill



"…burly Canadian riff rock…a thumping scorcher…" – exclaim!
"..a healthy dose of kitschy, blue-collar riff rock is just what the doctor ordered.…fun bangers that aim for the gut, not the grey matter." – The A.V. Club

Preparing a new album for a spring release, New Brunswick's The Motorleague are following up their 2009 full-length Black Noise. The album garnered them two East Coast Music Awards for Loud Recording of the Year and Fan's Choice Video. They've performed with the likes of Bad Religion, Alexisonfire, Comeback Kid, The Real McKenzies and Grady.

Tickets are $13.99 in advance and $16.99 day of show (including tax and service charge) and go on sale this Friday, March 23 at 10 a.m., exclusively at www.sonicconcerts.com. These shows are restricted to ages 19+ with VALID ID. Doors open at 9:30 p.m.



For more information on Monster Truck, visit: www.ilovemonstertruck.com
For more information on The Motor League, visit: www.themotorleague.ca