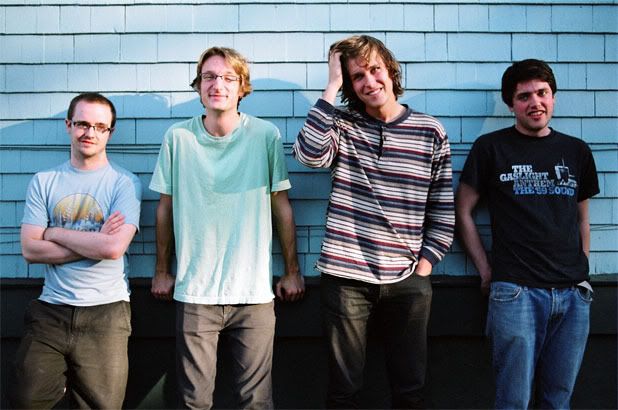 Money in the Banana Stand release their new EP Giant Steps II on Tuesday, April 03.
Money in the Banana Stand is a punk band in disguise. By day, the four members of the band obsess over math, poetry and the meaning of life. By night, they put their words and ideas into song, unleashing their fury for all to hear.
Formed in 2009 by childhood friends Joel Young and Steve Brown, Money in the Banana Stand went through a couple different lineups before finally adding Andrew Woods (Boxer the Horse) on bass and Chase MacDonald on drums. Realizing quickly that their strength lies in passionate bellows atop catchy rock n' roll tunes, the band soon became a fixture of the Charlottetown music scene.
After releasing their debut LP, (There's Always – BirdLaw, 2011), Money in the Banana Stand spent a summer working on new material that would eventually become, Giant Steps II. Recorded in a barn in rural PEI by local sound-guru Adam Gallant, Giant Steps II is an (ironically titled) seven-song EP that continues in the vein of There's Always with its turbulent, self-reflexive tone. Giant Steps II finds a balance between despair and delight. It's a collection of songs that deals with the frustrations of isolation, balancing creativity and the tasks of everyday life, and living in an increasingly detached universe. Musically, the EP finds the band more cohesive than ever before, finding a sound that is their own blend of folk, punk, and rock 'n' roll.