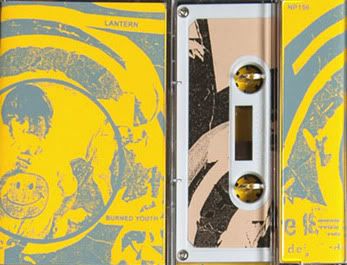 Philadelphia's Lantern returns with a second tape release for Night-People, this time in the form of a reissued tour only cassette that highlights the band's evolution over the course of 2009-2011.
Despite being a bit of a retrospective, Burned Youth feels very whole, considered and complete.
Overall, the fidelity of these recordings is a bit more hi-fi than the band's recent Night-People tape Stranger I Come/Stranger I Leave. The destroyed, psyched-out proto-punk (Stooges/Denudes) inspired squall of that release isn't really present on this more archival material. For these recordings Lantern seemed to be approaching things from a more Texas/Delta blues and Their Satanic Majesties era Stones influence with a good bit of Texas garage psych thrown in the mix a la the Elevators and Parable of Arable by Red Krayola. This is really fun music regardless and feels like its own take on classic rock and roll aesthetics.