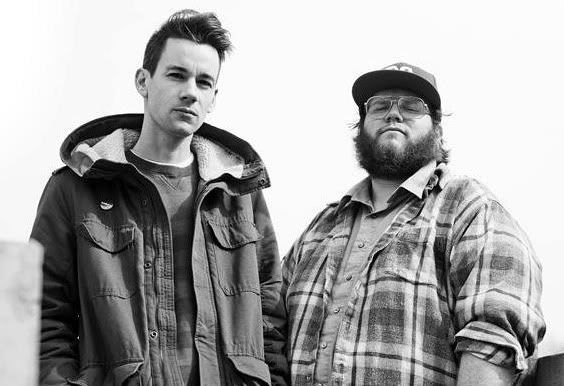 PS I Love You will embark on a twelve-date tour starting in Toronto and ending in their hometown of Kingston, Ontario (full list of dates below). The tour begins on May 15th, days after the band release their much-anticipated second album Death Dreams. The eleven-track LP will be available in Canada and the United States on May 8th and the United Kingdom on May 28th on Paper Bag Records.
PS I Love You are also offering a free download of album stand-out 'Princess Towers' here. Clocking in at an efficient 2:22, 'Princess Towers' showcases PS I Love You's ability to pack their trademark wall-of-noise into impressivly compact songs. Pre-order Death Dreams here.
To the casual on-looker, PS I Love You's quick rise to the summit of the intensely competitive Canadian music landscape is the thing dreams are made of. Heck – just over one year ago the band released their highly praised homage to their hometown Kingston, Ontario. Meet Me At The Muster Station was embraced by critics across the globe garnering consistently dazzling reviews and was included on the long list for the 2010 Polaris Music Prize. PS I Love You's Benjamin Nelson and Paul Saulnier toured Muster Station around the planet.
While on the road Paul Saulnier began to have reoccurring dreams centered around, as dark as it may sound, his mortality. Triggered by life on the road – these images, created by Saulnier's subconscious have, shaped the direction of the band's brilliant new LP Death Dreams.
Death Dreams was recorded with Muster Station producer Matt Rogalsky on his portable studio in the band's tiny rehearsal space. No big budget studios for these lads. The album's photography and design of the album's artwork was created and executed by Benjamin Nelson.
Paper Bag Records is one of North America's finest independent record labels. Based in Toronto, Paper Bag Records has cultivated an exciting and diverse roster which includes both domestic and international talent. Most recently, the label became the Canadian home for operatic electronic act Austra, the enthralling Rural Alberta Advantage as well as long-standing purveyors of countrified rock Cuff The Duke and Elliott BROOD. In 2011 the label had a staggering four albums included on the Polaris Music Prize long list and has started 2012 with four Juno Award nominations. In its tenth year of existence, Paper Bag Records is currently working with an exciting active roster of PS I Love You, Young Galaxy, Born Ruffians, The Acorn, Winter Gloves, Woodhands, Slim Twig, CFCF and Sally Shapiro. The label has also had the pleasure of furthering the careers of You Say Party, Tokyo Police Club, Broken Social Scene and Stars in the past.


PS I Love You Tour Dates
May 15 Toronto - The Garrison
May 19 Hamilton - The Casbah
May 21 London - The Alex P Keaton
May 23 Chicago - Schubas Tavern
May 25 New York - Mercury Lounge
May 26 Brooklyn - Glasslands
May 28 Hamden - The Outer Space
May 29 Fredericton - The Capital Complex
May 30 Charlottetwon - Hunters Ale House
May 31 Halifax - Michael's
June 2 Montreal - Il Motore
June 9 Kingston - The Grad Club