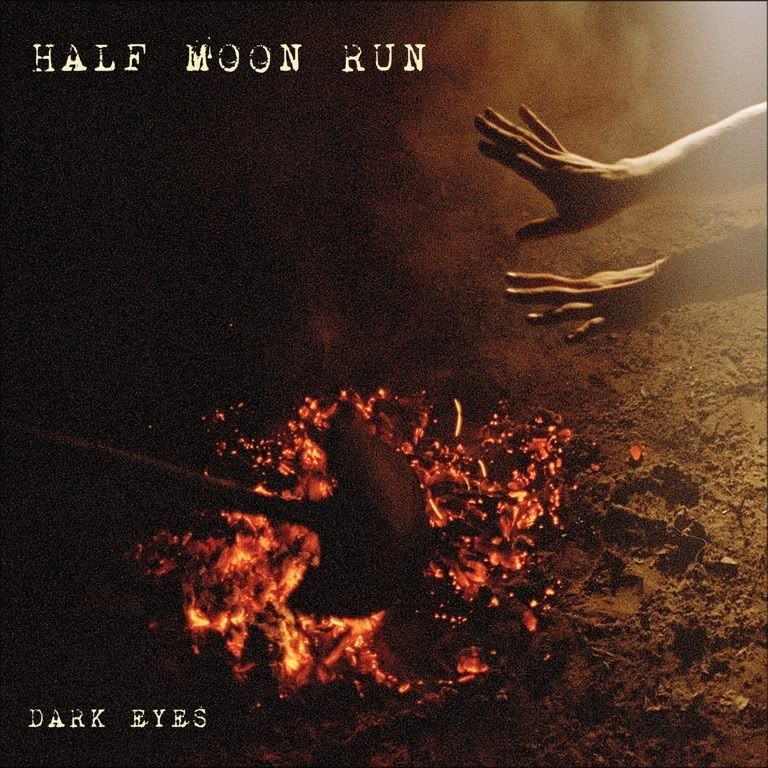 MONTREAL'S INDIE-ROCK TRIO
HALF MOON RUN
DARK EYES
CANADIAN, U.S. AUSTRALIA & EUROPEAN
FIRST VIDEO FOR "FULL CIRCLE" AVAILABLE BELOW
If more bands of this caliber formed the way of Montreal's Half Moon Run, CraigsList might reconsider expanding and capitalizing on their musician listings.

Devon Portielje

, from Ottawa, met Conner Molander and Dylan Phillips, from Comox, BC through a mutual friend and an ad on CraigsList in 2009.
In two short years, this young 20-something trio has grown their partnership into an incredible start. First a critically applauded EP, and now to their highly anticipated debut album "Dark Eyes" set to be released on March 28, 2012. The raw musical talent they each possess combines to make an awe-inspiring, multi-tasked sound and live show. Phillips often plays drums and keys simultaneously as Molander and Portielje shuffle between guitar, keys, samplers and percussion. Folky, 60's inspired three-part harmonies hold down moody, psychedelic arrangements and electronic-infused soundscapes.
The result of their unique meshing of talents is their debut album, "Dark Eyes" out on March 28, 2012 via Indica/Outside. The 11 track long player starts off with the lead single and the band's first video, Full Circle which is available here: http://www.youtube.com/watch?v=azV0Y7v6wsg
Already widely impressing with their live shows, Half Moon Run wowed audiences at Transmission, CMW and M for Montreal in 2011. They opened for indie-electro-pop duet Phantogram and were proclaimed "biggest buzz around the festival" by Ottawa Bluesfest Director Mark Monahan; as well as "Buzz Kings Of The (M for Montreal) Festival" by the NME.
Half Moon Run
just finished up a stellar week at SxSW in Austin and will play CMW 2012 this week. They will tour Canada, the U.S., Australia, Europe and the U.K. over the course of this year. Confirmed dates in France and Europe see the band out for a five-week run over April and May. Specific dates for Canadian shows will be announced soon. Their official CMW 2012 schedule follows below.
DARK EYES – TRACK LIST
2. Call Me in the Afternoon
3. No More Losing the War
CMW 2012 SHOWS:
Thurs March 22 @ 3:30 pm - Toronto Institute for the Enjoyment of Music (Canadian Music Fest)
Thurs March 22 @ 10:00 pm - La Belle Province Night (Sirius XM) @ El Mocambo
Friday March 23 @ 10:00 pm - Paquin Showcase @ The Drake Underground
Saturday March 24 @ 10:30 pm - M For Montreal Presents @ El Mocambo