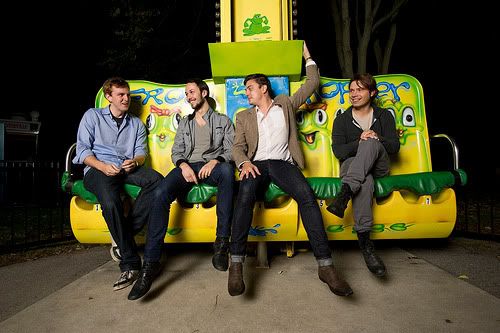 BOYS WHO SAY NO
TAKE CONTINGENCIES ON THE ROAD
SPRING TOUR WITH JAPANTHER
VIDEO FOR MS LEE RELEASED
"Their quirky mix of pop and art rock has the creative depth of Grizzly Bear and the cute, anthemic sensibilities of Ra Ra Riot." NNNN – NOW Magazine
Toronto, ON – March 13, 2012 – With their distinct indie-rock sound and incredibly high-energy live shows, Boys Who Say No have been charming Toronto audiences, getting them out of their seats and onto the dance floor. With the release of their debut full-length album Contingencies under their belt, the boys are ready to hit the road and take their music to the masses. The band will head out on tour opening for Japanther on their North American dates, that include four Canadian stops, kicking off on April 13th in Toronto, ON, with more shows in Manitoba, and Alberta (details below). Meanwhile, the band has released their first video from the new album for the track Ms Lee. Check it out here!
Released on February 21, 2012, Contingencies is an album packed full of catchy lyrics, great melodies, and music that is undeniably made for dancing. Songs like 56K and Small Town Girl are tailor-made for the live show singalong and will have listeners rushing to look up the lyrics so they can join in at the next gig. Check out what NOW Magzine had to say about the band's eclectic tastes and multi-genre fused sound, in their four N review. The video for Ms Lee is a testament to the fact that these songs are not meant to be listened to sitting down, and the floor is meant for dancing. Though fans might not bust out the choreographed moves, there is no doubt that from the moment Boys Who Say No take the stage, audiences will be on their feet!
Childhood friends Luke Correia-Damude, Frank Cox-O'Connell, Mike Lobel and Antonio Naranjo have each worn different hats in the Toronto arts scene before coming together around an interest in inventive songwriting and good pop music. They have shared the stage with Cuff The Duke, Plants and Animals, and have been regulars on the Toronto concert circuit with shows at NXNE and a headlining gig at the Steam Whistle Unsigned Series Showcase, where they launched the new record on February 24th. They have also toured extensively with Brooklyn art-punk duo Japanther, and will be hitting the road with the band once again this spring across North America.
Don't miss your chance to sing along with Boys Who Say No while they're on tour this spring!
Canadian Tour Dates w/Japanther:
Apr 13 – Toronto, ON – The Garrison
Apr 14 – London, ON – Apk Live
Apr 17 – Winnipeg, MB – Lo Pub
Apr 19 – Calgary, AB – Broken City