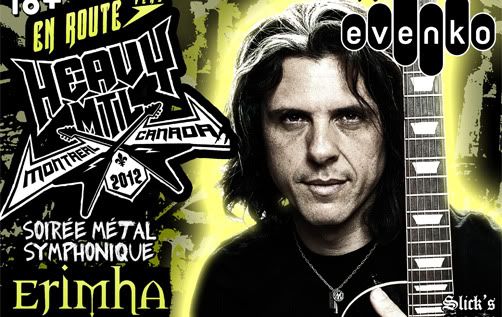 Dungeon Works Productions & Evenko Presents:
Heavy MTL 2012 - Battle of the Bands For Montreal's Best Metal Fest!
Check out Bands Playing The Upcoming Battles!
Alex Skolnick (Testament, Alex Skolnick Trio) To Guest Judge Heavy MTL BOTB - April 11 - Montreal
Alex Skolnick
(Testament, Alex Skolnick Trio) one of metal's most legendary and influential thrash guitarists has been announced as the special guest judge for round 4 of
Heavy MTL
's battle of the bands where the cities
heaviest and loudest bands take to the stage for a chance to win one of two prized spots on the Heavy MTL 2012 lineup at Parc Jean-Drapeau from August 11 to 12.
Round 4 will take place at
Les Katacombes (1635 St. Laurent) on Wednesday, April 11th
with the competing bands
Erimha, Hollow, Magnum Stallion and Valfreya
for the symphonic metal night.
BOTB Details:
Wednesday / Mercredi - April / Avril 11
Les Katacombes, 1635 St. Laurent (corner / coin Ontario)
8:30pm - $12 - 18+