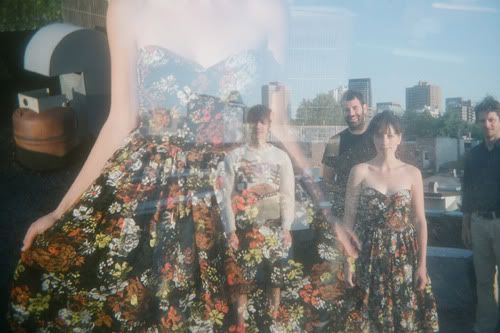 The Luyas' new video for "Moodslayer" off their critically acclaimed album Too Beautiful To Work (released via Idee Fixe Records) was premiered this morning on the popular art blog Booooooom.com
The video was directed/shot/edited by Derrick Belcham with props/animation/shadow cuts by Ruby Kato Attwood and Jessie Stein. The video was produced by Schtuff - the collective name for the artistic collaborations of Derrick Belcham, Ruby Kato Attwood and Jessie Stein.
The video is made entirely of hand-made paper animation machines, crystals and analog light and shadow. Most every object in the video is spinning on a record player. The song, "Moodslayer" was written by compiling the anxieties and venerations of a close friend as they dealt with their first schizophrenic hallucinations.
The depiction centres on the dichotomy between the protagonist's experience of the real and unreal within their psychological construct. They are thrown into a spectacular display of thought forms, settling on archetypes of peace from their youth, but, eventually, they are serenaded back into the unreal where a kind of comfort and control can be maintained.
The Luyas | Moodslayer | Official Video from A Story Told Well on Vimeo.