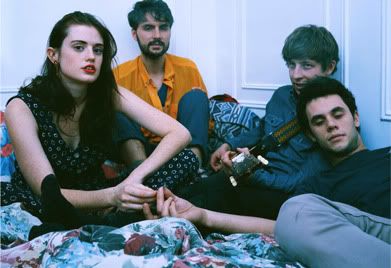 TOPS are the latest group on Montreal's Arbutus Records. Their debut album Tender Opposites is out now - deceivingly complex, a weave of clean guitar and synth parts matched with minimal drumming and female and group vocals balances dance and psychedelic with pop.
The video Rings of Saturn is shot on a beta cam, making Montreal a week ago look wonderfully dated, thanks to mastermind filmmaker and Arbutus design chief Jasper Baydala.
BIO


TOPS is a Montreal based four-piece, having each played in multiple groups in prior (Pat Jordache, Paula, Hammond-Ri, Silly Kissers, Sugar Boys etc.), they are band entrenched in the local community that makes music found no where else in or outside Montreal.



TENDER OPPOSITES

Tender Opposites is the band's first full length. It was recorded and reworked several times by the band at La Brique, the loft venue which serves as the creative hub for Arbutus Records (Blue Hawaii, Grimes, Tonstartssbandht, etc). The resulting songs have a complexity that slips easily into the shadows of the moods that they create - alternating between melancholic visions of the future and ecstatic fantasies that overcome them. The persona that emerges belongs to vocalist Jane Penny. Her unique tone is coupled with a strength of perspective, a rebellious attitude that betrays her girlish appearance.

TOUR DATES
March 1st | Montreal QC | Il Motore | with Mozart's Sister, Steve J.R.
March 2nd | Boston, MA | What We Talk About | with Saralee, BDRM Eyes, Hands and Knees
March 3rd | Brooklyn, NY | 285 Kent | Caged Animals, Special Guest, Phonetag
March 6th | Philadelphia, PA | No Space | with Point Reyes and Totally Super Pregnant
March 7th | Washington DC | TBA | with Hume
March 8th | Savannah, GA | Stopover Festival
March 9th | Gainesville, FL | The Laboratory | with Jovian Junction Orchestra, Michael Collins, Sunflower Pagallo
March 10th | Orlando, FL | Orange You Glad Festival
March 11th | New Orleans, LA | Foburg Festival
March 12th | Shreveport, LA | Minicine
March 14th | Austin, TX | Club 1808 | SXSW Music Festival
March 15th | Austin, TX | The Spill | POP Montreal Day Show
March 15th | Austin, TX | Venue TBA | Portals Music Showcase at SXSW
March 16th | Austin, TX | Hotel Vegas | POP Montreal Showcase at SXSW
March 19th | Marfa, TX | El Cosmico
March 20th | Phoenix, AZ | The Trunk Space | with Ganglians and G Greene
March 21st | San Diego, CA | The Tin Can Ale House | with Alameda, You Me & Apollo, Pree
March 23rd | Los Angeles, CA | The Echo | with Howler
March 24th | San Francisco, CA | The Sub
March 25th | Oakland, CA | Venue TBA | with Majical Cloudz
March 26th | Sacramento, CA | TBA
March 27th | Portland, OR | Holocene | with Charles Berlitz presents the Garnet Tucan
March 28th | Seattle, WA | The Institute of Living | with Lights from Space
March 29th | Vancouver, BC | Five Sixty | with Teen Daze
March 30th | Kelowna, BC | Fernando's Taqueria | with Little Jungles
March 31st | Calgary AB | Tubby Dog | with The Pygmies (CD release) and The Fags (ex-Sharp Ends)
April 1st | Edmonton, AB | Wunderbar | with Brazilian Money
April 3rd | Saskatoon, SK | Amigo's | with Feral Children
April 4th | Winnipeg, MB | Lo Pub
April 5th | Fargo ND | TBA
April 6th | Minneapolis, MN | Cause Spirits and Sound Bar | What Tyrants
April 7th | Chicago, IL TBA
April 8th | Indianapolis, IN | Melody Inn
April 9th | Cincinnati, OH | TBA
April 10th | Detroit, MI | TBA
April 11th | Guelph, ON | e Bar | with Cadence Weapon
April 12th | Toronto, ON | TBA
____________________________________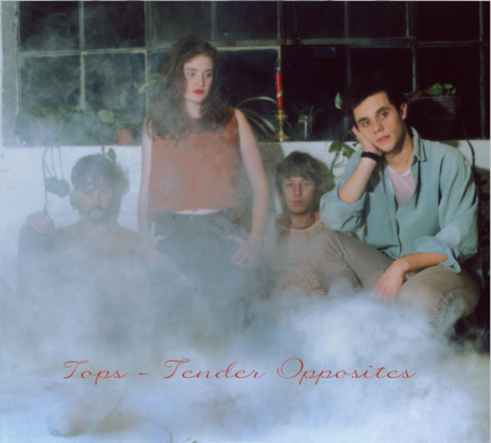 TRACKLISTING
1. Evening
2. Diamond Look
3. VII Babies
4. Double Vision
5. Go Away
6. Turn Your Love Around
7. Rings Of Saturn
8. TOPS Theme
TOPS
on:
twitter
|
bandcamp
|
soundcloud