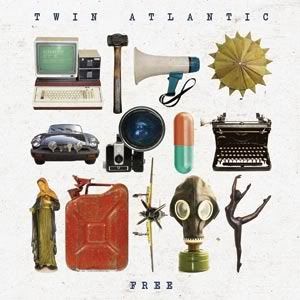 NEW ALBUM WILL BE LAUNCHED MARCH 13
UPCOMING CANADIAN SHOWS
Glasgow alt-rockers Twin Atlantic have been making a lot of noise across the pond. Their debut EP, Vivarium, and first full-length album, Free, put them on the map and earned them touring rights with some of music's best rock bands. Now, Free is set for its North American launch on March 13, 2012 with Red Bull Records. As part of their current North American tour, the band made a quick stop in Toronto last week and rocked the Annex Wreckroom! They will be back during CMW to play at The Phoenix on March 21st with more shows in Montreal and other Canadian cities to be announced soon.
Free is an album of experiences that pays homage to the band's days on the road. After touring the UK, Europe, and America, they went back into the recording studio, ambitious and ready to continue on from where Vivarium left off. Focusing on elaborate songwriting that strikes at the emotional core of their listeners, Twin Atlantic created a record that truly lays their souls bare. The title track,
Free
, flew into power rotation on BBC Radio 1, and the record was named Best New Rock Album of 2011 by iTunes UK, with the single peaking at #1 and the album at #2. Check out a video of the band performing
Free
live in their hometown of Glasgow
here
.
Formed in 2007 in Glasgow, and infusing their music with their Scottish heritage, Twin Atlantic found themselves caught in a whirlwind following the release of Vivarium. The debut, crafted by passion and honesty, immediately struck a chord with audiences, and earned them supporting slots for My Chemical Romance, The Gaslight Anthem, labelmates AWOLNATION, and blink-182, whom they'll hit the road with again this June for their UK tour.
Get ready for Twin Atlantic to take North America by storm with Free!
Canadian Tour Dates:
Mar 21 – Toronto, ON – The Phoenix