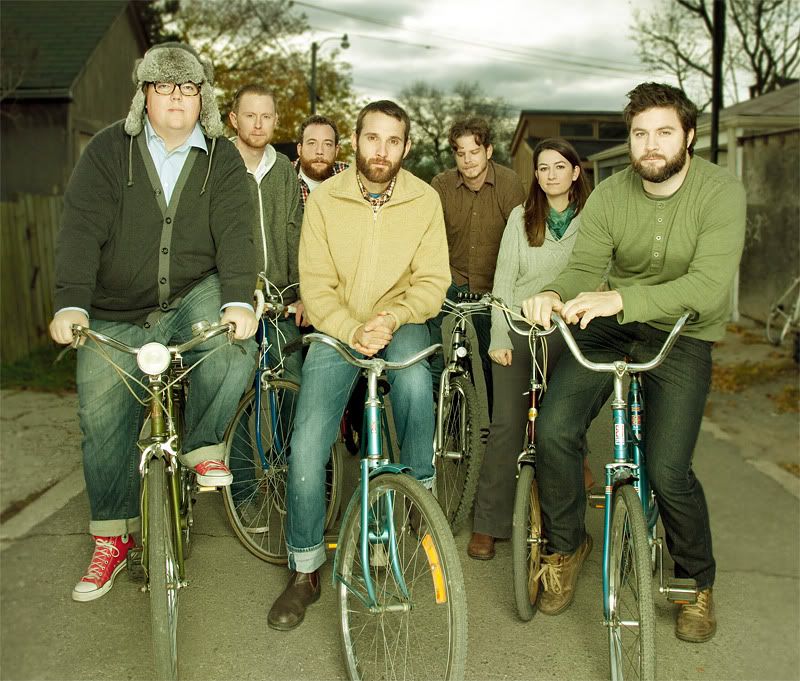 Seven talented artists, this band is a whole lotta heart with a side of devil in their eyes! Lindsay, Ontario's
The Strumbellas
are pleased to announce the independent release of their debut album, My Father And The Hunter, on February 21st (distributed by Fontana North). Sensitive singer-songwriters beware: this ain't your meemaw's country music. The band brings wheat field harmonies and arena-ready thunder to back rooms and festival stages alike, sounding bigger and louder than anyone with a banjo deserves to sound. Folk wisp and country twang are nowhere to be found as The Strumbellas pound out bluegrass-inspired indie rock that rivals punk and hardcore for sweat, blood, and ruckus. The band will celebrate the album with a show at The Rivoli in Toronto on February 17th. More tour dates across the country to be announced soon!
The Strumbellas' debut album, My Father And The Hunter, is an introspective snapshot of where the band has been until now. After seeing the group at The Dakota Tavern over a year ago, Cone McCaslin came on board to produce the album. Recorded at Blue Rodeo's coveted Woodshed Studio in the fall of 2011, as well as Metalworks, the album is the harvest of seven talented friends, some whiskey and a few rounds of euchre. Harmonies, stomps, hollers, claps and gang vocals unabashedly abound as the songs weave their stories throughout the album.
"Watched the caribou for days, swam across the Great Lakes, slept around an open fire, chasing demons to the pyre, I broke my home, broke my home, left for dead." My Father And The Hunter is a beautiful harmonious dichotomy between melancholy heartbreak on songs Carry My Body, Diane, Windsurfers, Underneath The Mountain, Left For Dead, and The Bird That Follows Me, versus blown-the-barn-doors-off spunk on The Sheriff, Lakes, Sailor's Blues, Rhinestone, I Just Had A Baby, and Pistol. Dance, cry, put your fist through a wall, call someone you used to love – expect to feel it all. Check out the mini-doc for The Bird That Follows Me in-studio recording below.
Conceived in Lindsay, Ontario, but born in Toronto, The Strumbellas are equal parts small town dream and big city gumption. It's strange, perhaps, that Canada's biggest city is home to its alt-country scene, but The Strumbellas rebel yell is a natural extension of the sound honed by Toronto stalwarts Royal City, The Sadies, Cuff the Duke, The Wilderness of Manitoba, and One Hundred Dollars. Principal songwriter Simon Ward likes to say that his heart is in his hometown but his head is in the city, or vice versa. He's not sure which.
"I believe in death, cause death has always won the last hand."
The Strumbellas are:
Simon Ward – vocals, acoustic guitar
James Oliver – banjo, ukulele, piano, vocals
David Ritter – piano, organ, percussion, vocals
Jeremy Drury – drums, percussion
Isabel Ritchie – violin, viola, vocals
Jon Hembrey – electric guitar, mandolin
Darryl James – bass
My Father And The Hunter Tracklisting:
The Sheriff
Lakes
The Bird That Follows Me
Rhinestone
I Just Had A Baby
Left For Dead
Windsurfers
Sailor's Blues
Pistol
Underneath The Mountain
Diane
Carry My Body
www.thestrumbellas.ca
www.facebook.com/thestrumbellas